You'll Love These Affordable Winter Coats For The Whole Family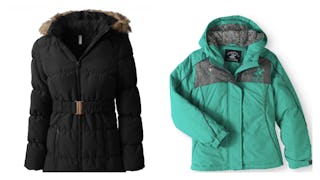 Image via Walmart
These coats have style, function, and warmth for the whole family
For many of us, the cold winter weather arrived like a lion and we're already bundling up every time we leave the house. And if anything takes a beating year after year, it's our winter outerwear. Buying coats for the entire family can be a massive chore — both with your time and your bank account.
Here are some adorable winter coats that won't break the bank and will keep your whole family toasty all winter long — even the family dog.
Whether you're looking for style, comfort, or both, there's a coat for everyone on this list.
Black, hooded parkas are all the rage lately — and for good reason. They're stylish, comfortable, warm as heck, and if you get a little salt or winter sludge on it, it's easily wipeable (unlike lighter colors). The cinched waist this coat offers is the cherry on top of the parka sundae.
Depending on your own personal sense of style or what you're wearing, parkas aren't always what you want when you're heading out into the cold. Here's a toggle-buttoned pea coat with a nice, warm hood that you can throw over your work wardrobe or wear when it's cold, but not teeth-chattering cold, you know?
Is there anything better than a man in a classic piece of outerwear? Have you seen Idris Elba in a pea coat? Every man should have this coat in their closet — even if it's not for everyday wear, it's a must-have.
This coat is function-first, for sure, but it's also just really nice. It's perfect for someone who spends a lot of time working or being active outdoors.
This delightfully-hued coat is great for kids on-the-go. Whether they're headed to school or want to play outside in the snow, it provides warmth without being overly cumbersome (because we all know kids hate that).
Okay, this pink-and-leopard coat is just pretty dang adorable. It's perfect for wearing every day or for fancier occasions or days where your kids aren't rolling around making snow angels.
"I can't put my arms down" is a classic line reserved for the puffiest of coats (thank you, Randy from A Christmas Storythis adorable coat) but your kid will absolutely be able to put his or her arms down no matter how warm and puffy is.
We're all suckers for a good buffalo-check pattern in winter, because don't we all secretly harbor the desire to look like a lumberjack when the weather is cold? Now your child can, too. The fleece-lined hood in this coat is perfect.
Listen, Rover needs to stay warm, too! Sure, they have their own built-in fur coats, but these plaid dog jackets are too cute not to buy. They won't want to come inside after rolling and playing and peeing outside with the kids (well, hopefully only Rover is peeing).
The best part of all of these coats is they're available on Walmart.com and they're affordable — the perfect combination for busy families everywhere.
We are a participant in the Walmart.com Affiliate Program and may earn fees by linking to Walmart.com and affiliated sites.