Officer And Student Wounded At Wisconsin's 2nd School Shooting In 2 Days
by Madison Vanderberg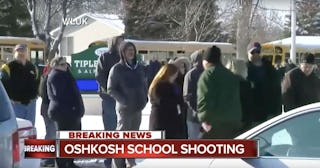 YouTube
Two injured in Wisconsin after school resource officer shoots the high school student that stabbed him
In the last two days in Wisconsin, there have been two instances of school resource officers shooting students who brought weapons to school. According to ABC News, on Tuesday, December 3, 2019, a student allegedly stabbed a school resource officer at Oshkosh West High School in Oshkosh, Wisconsin, and then the officer shot the student in response. On Monday at a different high school in the state, a student brought two guns to school, pointed one at the resource officer, and then was shot by said officer.
During the incident earlier today, the 16-year-old student and the officer reportedly had an "altercation" when the student stabbed the officer with an "edged" weapon, though Oshkosh Police Department was clear to point out that the weapon was not a knife. After the student stabbed the officer, the officer shot the student once. Both officer and student are hospitalized and being treated for non-life-threatening injuries.
The school went on lockdown and all classes have been called off for Wednesday across the Oshkosh Area School District.
"I heard people yelling and running, and I heard a bang but not sure what the bang was," Senior Dakota Meisel told Milwaukee Journal Sentinel. "We all got into the part of the room, closed all the doors, turned off the lights, and sat in the back of the class room quiet and we contacted parents and siblings, and waited until told what to do."
On Monday at Waukesha South High School in Waukesha, Wisconsin, just 80 miles from today's shooting, a 17-year-old student brought a gun and a pellet gun to school, refused to drop his weapons and even pointed the guns at the school resource officer, who then shot the student. The teen is reportedly hospitalized and in stable condition.
Wisconsin Attorney General Josh Kaul told USA Today that he "pledged to work with the school districts on preventing future acts of violence," which would include more mental health resources in an attempt to prevent future school shootings. However, Kaul supported a pair of bills that would have instituted universal background checks and given judges the power to take guns from at-risk individuals, but the bill was blocked by the Republican-dominated Legislature.
"This problem isn't going to go away because the Legislature ignores it," Kaul told the Star Tribute back in November.
After the incident at Oshkosh West High, one student's father told the Sentinel what parents all over the U.S. feel every day. "It freaks me out," he said. "I've been scared to death every time I drop my kids off at school."