Modern-Day Witches Are Planning To Hex Brett Kavanaugh – And You Can Join In
by Thea Glassman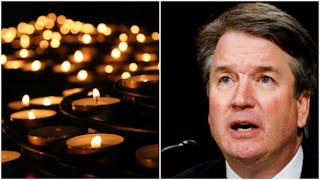 Image via Canoneer/Getty/The Washington Post/Getty
Modern-day witches are organizing a ritual to hex Brett Kavanaugh
Have you been feeling depressed, helpless, and sad ever since Brett Kavanaugh was confirmed to the Supreme Court? Well, I'd like to introduce you to a group of witches who want to help you out with that. Dozens of spell-casters are gathering together in New York City this month to place an actual hex on Brett Kavanaugh. Bonus points: we're all invited to join.
The hexing will take place at Catland, a metaphysical boutique in Brooklyn, on October 20th and the ritual is open to all. There's a suggested $10 donation, with half the proceeds going to Planned Parenthood and The Ali Forney Center, a transitional housing center for LGBT homeless youth.
"Please join us for a public hex on Brett Kavanaugh, upon all rapists and the patriarchy at large which emboldens, rewards and protects them," the Facebook invite reads. "We are embracing witchcraft's true roots as the magic of the poor, the downtrodden and disenfranchised and it's history as often the only weapon, the only means of exacting justice available to those of us who have been wronged by men just like him."
Oh, helllll yes. Even if you can't physically attend, who's to stop all of us from joining in spirit (literally)?
While Kavanaugh is the main target of the ritual, the witches noted that guests can focus their energy on any abusers who have harmed them. "Bring your rage and all of the axes you've got to grind," they wrote.
The event – which is currently sold out – will also feature a second ritual entitled "The Rites of the Scorned One," which will "validate, affirm, uphold and support those of us who have been wronged and who refuse to be silent any longer."
Witchcraft has long been a tool for the oppressed, Dakota Bracciale, a witch based in Brooklyn, told The Huffington Post. "[It's] always practiced by people who were cast out, harmed by society, and had to make their own way."
Bracciale has already organized three hexing rituals against Donald Trump. Last June, her event was aimed at "hex[ing] the Trump administration from further harm against the American people and the American government."
Keeping all fingers crossed that the hex kicks in sometime real soon.
If you're currently feeling a wee bit skeptical about the whole hexing thing, you should still consider joining in anyway. The ritual is about much, much more than spells.
"Even if you don't believe in the magic of it, you're given the space and the affirmation, having your voice heard, feeling a sense of fellowship and camaraderie," Bracciale said. "We're putting out the message that you're not alone, we're not leaving you alone with the monsters."
This article was originally published on