10 (More) Things To Do In Brooklyn With Kids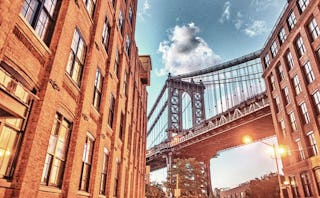 Heading to Brooklyn with kids? There's no shortage of ways to keep your children happy and entertained. Here are ten (more!) things to do in Brooklyn with kids…
1. The first subway stop in Brooklyn (Clark Street on the 2/3) takes you to Brooklyn Heights, an idyllic brownstone-filled neighborhood that's one of the most beautiful in the city. Montague Street is the main drag and has plenty of places to for hungry kids to eat (Henry Street is great for strolling, too), and at the end of the street is the Promenade, a walkway that looks across the water for a view of the Manhattan skyline worthy of a Woody Allen movie.
2. Don't feel like rowing? At Pier 1 in Brooklyn Bridge Park, pick up the NY Water Taxi and see the city sights by a checker-cab boat. Take the Hop On/Hop Off tour and cruise by Governor's Island (a colonial fort worth a visit itself – transfer from the Water Taxi to a seasonal ferry in Lower Manhattan), the Statue of Liberty, and even this place called Manhattan. Or get a combo Bike and Boat ticket, and pedal across the Brooklyn Bridge if the kids can handle it.
3. DUMBO (which stands for Down Under the Manhattan Bridge Overpass) is adjacent to Brooklyn Bridge Park and a great little neighborhood for food and a stroll, with the dramatic bridge overpass looming above like a fortress, to great effect. Just tell the kids not to get their hopes up for a flying elephant ride; instead stop at Dewey's Candy Store for a sweet treat.
4. Thank Jay-Z for bringing the NBA to Brooklyn! Take the subway to this major Brooklyn crossroads, Atlantic and Flatbush Avenues, and root for the home team, the new Brooklyn Nets, at the Barclays Center. Jay-Z was part of the team that gave the borough its first major sports venue since the Dodgers' late, lamented Ebbets Field.
5. Mummy-holics should not miss the Brooklyn Museum, located in Prospect Park, and it's world-famous collection of Egyptian art and artifacts, including the Mummy Chamber. This grand, elegant art museum (second largest in New York) also has excellent collections of American paintings and contemporary art.
6. Prospect Park is a world unto itself, not unlike its sister Central Park, also designed by Frederick Law Olmstead. Inside, it is easy to imagine you are far from the city crowds – and the park is home to the last remaining natural forest in the busy borough. There's a zoo, excellent playgrounds (like the Garfield Tot Lot for little ones, and the Imagination Playground), a farmer's market, nature trails, carousel, and you can even ride a horse! (Note: Prospect Park is still in the process of recovering from Hurricane Sandy. Click here for closures, or to find out how to help!)
7. When you want to get back to city living, head across Prospect Park West into the neighborhood of Park Slope, where Fifth and Seventh Avenues are filled with shops and restaurants perfect for kids. There's Sweet Melissa Patisserie, with a children's tea and dress-up chest, or kit out your little crime fighter at the Brooklyn Superhero Supply Company!
8. The Brooklyn Academy of Music (aka BAM) has long been the place for cutting-edge theatre, dance and music, including great theatre for kids. There's even a children's film festival. Bonus: BAM runs a bus back to Manhattan post-performances. Or stay and mix the avant-garde with old-school Brooklyn by stopping by nearby Junior's Cheesecake after the show!
9. In my humble opinion, it's impossible to have bad pizza in Brooklyn, and you haven't really experienced Brooklyn till you've had a slice. There are lots of places to test my hypothesis. Give any local joint you might pass a try (my place in Park Slope was always Pizza Plus), or while you're at Brooklyn Bridge Park, try Grimaldi's in DUMBO. And remember to fold your slice lengthwise, New York style!
10. Come to think of it, the same is true for bagels: in Park Slope, Bagel Hole is best, or in Brooklyn Heights, bring a bagel (with a schmear, of course – from Montague Street Bagels) to the promenade for the perfect, kid-friendly Brooklyn breakfast. Yum!
Still want more to do in Brooklyn? Click for ten more mom approved spots!
This article was originally published on