Things To Do on Martha's Vineyard With Kids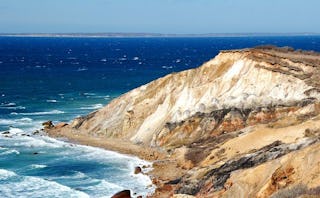 If you think Martha's Vineyard is only for presidents and celebrities you may be surprised to discover this island is actually all about families. In fact, it's the summer beach vacation destination of families across the country. With beaches for all ages, natural habitats and a peaceful ambiance, you can easily discover its gentle charms side by side with your children. Not only for summer visits, there's a whole island to explore no matter the season.
Here are the best things to do on Martha's Vineyard with kids.
Biking Trails on Martha's Vineyard
You could ride a bike along one of the many safe bike paths all over the island, keeping with the low key environment life. Bring your own or rent a bike and take off along the flat bike path which runs along Beach Road, a perfect ride for little ones. Sengekontacket Pond on one side, the beach on the other, stuff a towel in your bike basket and stop and take a swim in the calm waters of the sound.
Another easy ride is from The Aquinnah cliffs down Lighthouse Road where there's little car traffic and a constant view of the sound out to the Elizabeth Islands. When you reach Menemsha Pond take the bike ferry across to the working fishing village of Menemsha to sit on the dock with a yummy lobster roll or…if you dare…fresh clams.
Best Beaches on Martha's Vineyard for Kids
There are beaches for all aged kids on Martha's Vineyard. Depending on where you stay, every town has their own private beach, though public beaches are in abundance. You can body surf along the three-mile Katama Beach in Edgartown or spend hours diving through the breakers. Joseph Silvia State Beach, stretching two miles from Oak Bluffs to Edgartown is on the sound, perfect for small children with its lapping waters.
Moshup Public Beach is nestled under the soaring red clay cliffs of Aquinnah at the extreme point of the island with nothing but ocean in all directions. These are only a few of the public beaches, exploring the island to find more is the most fun of all. In the off-season, town beaches are open for all to enjoy.
While you're on the beach, you can gather stones and rocks, the best souvenirs. Especially when the tide is low, walking the beach to find a unique treasure is our favorite pastime. Smooth ones, teeny white ones, patterns only nature can form, we stuff them in a backpack and set them out on the table throughout our stay, moving them around, stacking them, then choosing our favorites to take home.
Kids Attractions on Martha's Vineyard
Flying Horses Carousel in Oak Bluffs is the oldest operating platform carousel in the country. The real fun is grabbing for the brass ring on each go around. Every ride brings more skill your kids will learn to grab multiple rings as they grow older, though it's only the brass one which gives the winner a free ride. Open May through September, you may find you spend more time there when the kids discover one ride is not enough.
Felix Neck Sanctuary in Edgartown provides four miles of trails along woodland, ponds, shorelines and salt marshes and is a nesting place for ospreys and barn owls. Children and families can set out on their own, take a guided walk, be apart of one of their Eco-Kid events, or snorkel in the shallow waters of Sengekontacket Pond. There are a variety of events every day. Exploring Felix Neck with your kids will surely be one of your best memories of time together. Felix Neck is a treasure for children and adults.
You can also ride the Chappy Ferry from Edgartown to Chappaquiddick. Don't get too settled, it's a short but fun ride. The Chappy Point Beach faces the harbor, safe for children to play and fish, or hike around the point where the views of the captain's houses in Edgartown down to the Edgartown Lighthouse are spectacular.
Taking a car on the ferry allows for a drive out to Wasque Point, a seven-mile barrier beach. Here you can explore on your own, take a guided tour by kayak or relax. These are some of the most beautiful beaches and marshes with a never ending sky. This surf can be high, though the sand is perfect for magical sandcastles.
Sure to be one of your kids' favorite activities on Martha's Vineyard, pet an alpaca at ISLAND ALPACA Farm in Oak Bluffs. Spend a morning at their Alpaca Discovery Session to learn about the care and history of alpacas. Here it's hands-on with barn chores, feeding and best of all a chance to meet the newest babies. This is a must-visit.
Outdoor Activities on Martha's Vineyard
Visit the Aquinnah Cliffs and learn about the first Vineyard settlers, the Wampanoag American Indians. This area can get crowded with tourists as the day goes on, though there's no better view of the island and ocean than from the top of these red clay cliffs. For a special treat arrive early and have blueberry pancakes on the deck of the Aquinnah Shop restaurant perched on the top of the cliffs.
Not to be missed is a sunset picnic on the beach in the fishing village of Menemsha. Looking west out to sea as dusk turns into night the sky lights up in brilliant colors. Bring your own basket or take out from one of the local restaurants.
A day will always end well with a stop at Mad Martha's Ice Cream. Be prepared, it's hard to choose which homemade flavor everyone will want. You can't go wrong with chocolate fudge or classic blueberry.
MORE: Best Spots to See on Hilton Head With Family
Make Belfast Your Next Family Vacation Destination
Take on a Trip to Tampa With Your Toddler
This article was originally published on