Woman Asks The Internet For Help Cropping Man Out Of Engagement Photo, Gets A Lot
by Mike Julianelle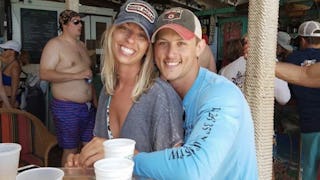 Image via IMGUR
A woman asked the internet to doctor her friends' engagement photo, and the internet happily obliged
A well-meaning woman got more than she bargained for when she went online to ask the web to help Photoshop a bystander out of a friend's otherwise adorable photo, taken right after they got engaged.
Be careful what you wish for, especially when you wish upon the internet.
Getting engaged is a major milestone in one's life, and it's only natural to want to capture such a milestone in a picture-perfect photo that can be cherished forever. Unfortunately, people.
One couple thought they had the perfect picturesque memento of their post-engagement glow, and they almost did, if not for the accidental photobomb from a shirtless man in the background. In an attempt to salvage the situation, one of their friends went online to get some help from a Photoshop pro.
Instead, she got help from some amateur comedians. You can view all of the hilarious aftermath on Imgur.
Rather than simply erase the oblivious photo-bomber from the picture, the internet unleashed it's full creativity on the unsuspecting couple.
Of course Nic Cage made an appearance; he'll be in anything.
We honestly thought Barney was dead.
Hey, at least he's a patriot!
We're not sure what's a bigger nightmare, this one:
Or this one:
Yikes. We think we actually prefer this scenario:
Obviously, they didn't get exactly what they were after, but we don't think they're ever going to forget this moment now.
At least a few people made an actual effort. Sort of.
This helpful person might have taken the request to "photoshop dude out" a bit too literally.
We aren't experts, but we're pretty sure it would have been easier for someone to actually remove the guy from the background than it was to make half of those other alterations. Of course, it wouldn't have been anywhere near as funny.
We're not sure there's anything left to say. Except cheers to the happy couple.
This article was originally published on