Aggressive Rich Lady Ruins Baby's 1st Photo Shoot In Viral Video
by Cassandra Stone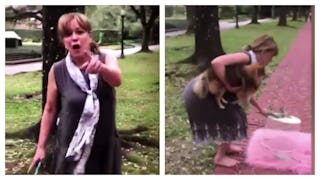 Image via Facebook/Inside Edition
The video shows the woman snatching the baby's blanket and birthday balloons while getting physical with her parents
What should have been a fun, memorable day for a toddler and her family ended in an aggressive confrontation when an angry white woman ruined the child's first birthday photo shoot. The woman even went so far as to remove the child's props from the sidewalk and physically assault the baby's father.
Kelyn and Isaiah Allen of Houston, Texas, were snapping adorable photos of their daughter, Anja, in honor of her first birthday. They had a few props set up along a scenic sidewalk — a small blanket, a birthday balloon, and a few flowers. For all intents and purposes, it was a perfectly normal and adorable thing for a family to be doing. Until an angry, aggressive white woman in the neighborhood confronted the family and ruined everything.
The woman, identified as Franci Neely, apparently lives in the neighborhood where the Allens were taking photos. She literally barges over, barefoot and carrying a Pomeranian, and proceeds to snatch the child's blanket while yelling at the parents.
Then she becomes physical with Isaiah, who was recording the incident on his phone. She aggressively tries to smack the phone out of his hand. Twice. You can hear little Anja crying in the background.
According to ABC 13, the Allens have filed a police report.
Neely, described by multiple news outlets as a "Houston socialite," was apparently upset because she feels photo shoots in her neighborhood (she lives where the photo shoot was taking place) is damaging to community property. She also says in a statement to ABC13 that she's "very sorry" about getting upset. "It's hard to remain composed when confronted by shouted threats of lawsuits and false, inflammatory accusations."
The sidewalk in question has apparently been under dispute in the community. The homeowners association has said the property was deeded to the HOA in the 1920s. They are continuing to fight the city over property rights. "We had to take a stand is what we basically had to do because people were going into people's gardens, standing on people's front steps and they felt that they could just take over the neighborhood," the neighborhood HOA president, Cece Fowler, tells ABC13.
It's worth noting that none of this is at all what the Allen family was doing.
All that aside, there is absolutely no excuse for the behavior Neely displayed toward this family. To get violent and assault another person like that in front of a one-year-old is completely unacceptable in every way.
This apparently isn't the first time Neely has confronted locals about taking photos in the area. Mario Montemayor of Houston tells ABC13 his daughters and their friends were taking prom photos along the same walkway last spring when Neely told them not to.
"I still feel violated that someone could just come up to you. They didn't like where you were. It was a free space. It was disturbing," said Montemayor. "I don't think she committed a crime, but she was very rude. I'm not asking for an apology, but it's disturbing we can't walk in a free space."
Regardless of the outcome of the Allens' police report, the entire incident never should have happened. It's never okay to resort to physical violence in any situation, and especially in front of a small child. Here's hoping Anja and her parents enjoy the little one's first birthday the way they deserve to.