Woman Caught Drinking Wine From Pringles Can, Riding Around In Electric Cart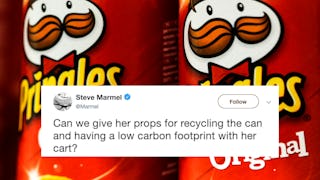 Image via Igor Golovniov/SOPA Images/LightRocket via Getty Images
We're not saying we condone riding around a parking lot while drinking from a chip can, we're just saying it doesn't sound like the worst thing
A woman was banned from a Texas Walmart after she was caught reportedly drinking wine from a Pringles can while riding around the parking lot in an electric shopping cart.
Not all heroes wear capes, folks. And the entire internet agrees.
The person who called the police said the woman had been riding around the store's parking lot since 6:30 a.m. Police showed up after 9:00 a.m. Hey, it's five o'clock somewhere, amiright?
There's no information being reported on the woman's mental condition. If she's struggling, she deserves all the empathy in the world just like anyone else. But the internet is choosing to see this as more of a "let's celebrate this hero who was just living her life" attitude about the whole story, and honestly — we can get behind that.
Some people wanted to celebrate her environmental awareness.
Most people feel like this woman should be receiving the applause she deserves.
If she truly was drinking and driving (…scooting?) around the parking lot, then yes, it's absolutely a safety issue and she should probably be escorted home to drink from her Pringles can in peace.
Though not everyone sees it that way.
Basically, many of us can relate. Even if we can't, in good faith, condone it.
The woman was apprehended by police at a nearby restaurant, where she was informed she was permanently banned from the Walmart in question.
This article was originally published on