Woman Gives Birth While Taking Bar Exam Like The Boss She Is
by Julie Scagell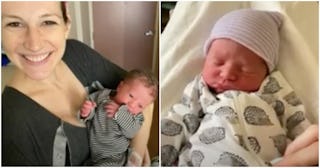 YouTube/NBC
An expectant mother delivered a healthy baby boy and finished the bar exam the next day
Women are the real superheroes of the world, and this new mom is no exception. Brianna Hill was taking the bar exam — which in and of itself is challenging — but she decided to kick it up a notch and have a baby at the same time. You know, as you do.
CNN reports that Hill, a recent graduate of the Loyola University School of Law in Chicago, got quite the surprise when the planned date of the bar exam got moved back due to the pandemic. Originally, she thought she'd be 28 weeks pregnant during the exam but instead, she was a little farther along.
"I thought I would only be 28 weeks pregnant when I took the bar," Hill told CNN. "However, due to the pandemic, the test was pushed to October and I was going to be 38 weeks. I joked about taking the test from my hospital bed. Lesson learned!"
The remote version of the test includes four 90-minute sections taken over two days. She told NBC Chicago that you have to be in front of your computer's camera the entire time to make sure you aren't cheating on the exam. She said about 30 minutes into the exam she stood up and realized her water had broken.
"I couldn't go check and so I finished the first section. As soon as I stood up when I finished, I knew my water had broken," she said.
While most of us would have thrown in the towel and told the proctor, "Hi, um. I'm going to have a baby instead today, m'kay bye," Hill continued on. "I took my break, got myself cleaned up, called my husband, midwife, and mom, cried because I was a little panicked, then sat down to take the second part because my midwife told me I had time before I needed to go to the hospital," she added.
Once she finished the first two sections, she drove to the hospital and her new baby boy arrived just a few hours later.
"The whole time my husband and I were talking about how we wanted me to finish the test and my midwife and nurses were so on board. There just wasn't another option in my mind," Hill said. So, they rallied around her and made her hospital room into the next day's testing center.
Staff put a "Do Not Disturb" sign on her door and Hill took the rest of the exam from her hospital bed, nursing her baby during breaks like the complete badass she is.
"My husband and law school friends provided me with so much encouragement so I could push through the finish line even under less than ideal circumstances," she said. "And my family, especially my sister, just kept reminding me how I could do it even when I wasn't so sure myself."
This woman is certainly a rockstar, but also — why is the bar exam so hard to reschedule, shouldn't there be an exception for when a woman is going into labor? Hey, Illinois Board of Admissions for the Bar, can you make sure this isn't a recurring thing, because it's actually insane that she had to take the bar exam from her hospital bed. Something to look into changing, kay thanks bye.