Mom Delivered Her Own Baby During Hurricane Irma And Chose The Perfect Name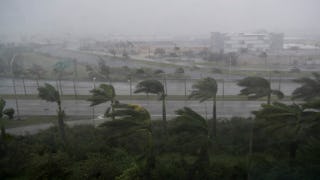 Image via SAUL LOEB/AFP/Getty Images
Every birth story is memorable. Giving birth in the middle of a hurricane, however, is truly something else. A Miami woman did just that early this morning, while on the phone with paramedics to guide her through it.
Hurricane Irma's strong winds made it nearly impossible for paramedics and other rescue crews to effectively respond to all the emergency calls that came in. So when you go into labor merely hours before a hurricane is set to hit your city and no one can come to help you, what do you do?
Deliver your own baby while on a conference call, apparently.
"We weren't able to respond. So she delivered the placenta, also. Dispatch told her how to tie it off. She's stable at home," Assistant Fire Chief Eloy Garcia told the Miami Herald. "We made contact with the assistant medical director here. Talked things through."
That's right, paramedics, a dispatcher and a doctor a Miami hospital all walked her through her own childbirth — including delivering the placenta and cutting the umbilical cord.
The result is a happy, healthy baby girl that was rushed to the hospital along with her mother as soon as road crews deemed it was safe enough to travel.
This article was originally published on