Woman Who Gave Birth In Vegetative State Was In Nursing Facility Since She Was A Toddler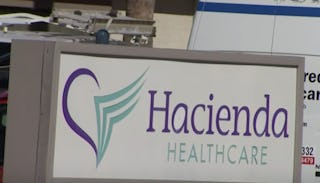 Image via YouTube
A woman who gave birth while in a coma was sexually assaulted at her longtime nursing facility
More heartbreaking news is coming out about the 29-year-old woman who was sexually assaulted while in a vegetative state, and then subsequently gave birth. According to Maricopa County Superior Court state records, the woman was a resident at the Hacienda HealthCare nursing facility in Phoenix since she was a toddler. She's been diagnosed from quadriplegia, recurrent pneumonia, and a seizure disorder. And now, she's given birth after a sexual assault at the place where she's lived nearly her entire life.
This story is simply gut-wrenching in every way.
Court records reveal a number of alarming notes. First of all, the patient hadn't been examined by a doctor for more than eight months, so her pregnancy "took everyone [at the facility] by surprise," Phoenix Police Sgt. Tommy Thompson said. The woman also "lacks sufficient understanding and mental capacity to make decisions or give consents for her medical, placement or financial estate."
There's currently a sexual assault investigation underway and DNA has been collected from male employees at the nursing facility. "She was not in a position to give consent," Thompson said, calling the patient a "helpless victim who was sexually assaulted."
The birth process was traumatic for both the mother and her newborn. The baby had coded, was in "distress," and struggling to breathe, according to Thompson. The woman was "unable to move [and] unable to communicate." Both are currently recovering in a hospital.
This truly awful sexual assault and resulting situation has left the patient's family feeling "outraged, traumatized and in shock." It also shook up Thompson, who has already seen his share of horrendous crimes.
"Thirty-five years of being a cop, just when you think you've seen it all, here comes a new one. I don't have words to describe it," Thompson told PEOPLE. "Just when I think you've seen it all, something else comes along like this and I think it's a horrific crime."
It's incomprehensible that this sexual assault occurred. It's also completely maddening that the nursing facility didn't even notice that their patient was pregnant until she went into labor.
Investigators have asked that anyone with information contact 602-534-2121. Or, if you'd like to remain anonymous, call Silent Witness at 480-WITNESS.