Woman Dani Mathers Body-Shamed Comes Forward -- And She's In Her 70s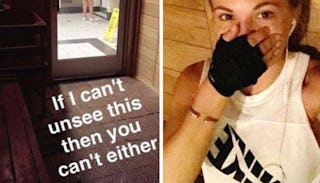 The woman Dani Mathers body-shamed is in her 70s
A few months ago, Playboy Playmate Dani Mathers disgusted the world by photographing a woman at the gym and body-shaming her on Snapchat. She photographed a woman and posted the image of her naked body with the caption, "If I can't unsee this, then you can't either."
The image below is cropped, but the one she posted to snapchat showed the entire woman's body.
Pretty awful, right? Well, we have some new information today. The woman Dani Mathers couldn't help but shame for existing is in her seventies.
Not that it would make this utterly despicable action any better if the woman was in her 20s, 30s, or 40s — but something about the additional information that this woman is a septuagenarian elevates Dani's behavior to comic-book-villain status.
Who body shames an elderly woman?
People Magazine confirmed that the victim has come forward and spoken with the Los Angeles Police Department.
"We hope the rumor is not true," Mathers' lawyer Tom Mesereau told People. "Dani Mathers never tried to hurt anyone at any time and certainly never tried to break any law."
LA Fitness revoked Mathers' membership when they got wind of the incident. They also filed a complaint with the police. She was also fired from her radio gig and received intense backlash online. She's apologetic, but it hardly erases such vile behavior.
Hey, Mathers — youth and beauty are not accomplishments.
I know, I know, it sounds crazy. But spending several hours at the gym a day and maintaining a body that is still favored by genetics and gravity does not make you better than anyone else. Time stops for no one, and will inevitably be knocking on your door. Also, karma is a bitch — so good luck.
TMZ reports that the woman in the photo is cooperating with law enforcement and they're recommending prosecution, with the charge of "Dissemination of Private Images." It's a misdemeanor punishable by six months in jail.
This article was originally published on