I Caught A Glimpse Of The Woman My Daughter Will Be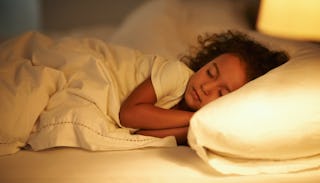 PeopleImages / iStock
As the sliver of hallway light illuminates her room, I tiptoe to her bed to kiss her goodnight. She lay quietly, fast asleep, her long brown hair fanning across her Hello Kitty pillowcase. The pink walls of her bedroom, covered with magazine photos of animals and favorite drawings from school, softly glow in the moonlight. Hair accessories, lip glosses, and earrings litter the dresser where I once changed her diaper.
When I lean in to gently remove the Harry Potter book resting on her chest, I catch a glimpse of the woman she's going to be someday and it stops me in my tracks. Whether it is the way the moonlight shines on her young face or the way her hair falls that makes her look grown up, I can't be sure. Or maybe it's her 11-year-old gangly legs filling up the mattress or her nail polished fingertips by her cheek that makes me catch my breath. In one blink of an eye, one millisecond in time, I see the moments she and I will share in a sudden rush.
I see her bounding into the kitchen in her prom gown, girlfriends piling in behind her, all eager to dissect the evening and gossip over hot chocolate and cookies. I see her grown up makeup and up-styled hair transforming her into a statuesque beauty who will stop her father in his tracks. I can hear the laughter as she recounted silly dance moves and favorite moments on her biggest high school night. I feel the warmth of the hug we share before bed, me grateful to have her home safely.
I glimpse the day she will stand in her dorm room, full of promise and scared to meet her roommate. I can see her exasperated eye roll as I try to help unpack her belongings and her tight hug as I coax my tears to wait until I'm safely in the elevator. I hear her excited chatter on her phone calls home and feel the flutter in my stomach as I wait for her to arrive home for the holidays. And, I see her wearing her black cap and gown, proudly showing off a hard earned degree.
I contemplate the look of anguish on her face as she brokenly details a future heartbreak. I feel the scratch of her sweater as I hold her when her tears flow, and the silkiness of her hair as I brush it from her forehead while assuring her she hasn't found The One just yet. I feel the pain of watching her rebuild and move on and the hope that she'll find commitment and real love.
As I stand there gazing at her peaceful, sleeping face, I imagine her father nervously tying and retying his bowtie as he waits for his little girl to finish dressing. I take in his blue eyes as they swim with unbidden tears as she descends the stairs, a vision of white tulle and grace. I feel the grip of his hand as we both prepare to let her go, both bittersweet in our happiness on this big day. I watch her radiantly walk down the aisle to her beloved and feel the urge to calm her shaking hands as she exchanges rings. I feel the sadness tug at my heart as I watch the back of her dress sail out of the church on a cloud of happiness and excitement. I hear the fervent prayer in my head that she'll always feel the joy of this day.
The moment as I round the corner to her hospital room flows over me in a flash. Her eyes meet mine, both of us threatening to cry, as we share in the wonder of the bundle nestled in her arms. I touch her weary, exhausted face and bring the tiny baby to my lips and wonder how this moment came so quickly.
In that fleeting moment by her bed, that moment in time where my hopes and dreams for her flowed through my heart and seemed so clear, I wonder if I was being unfair to her. I worry that I am placing expectations too high or too unrealistic for her to achieve. But, as I stare at this beautiful creature on the bed, I realize that it's okay to hope and want special moments for my little girl. Just as she lay dreaming, I can have this tiny moment to dream, too.
And, in a blink, over almost before it started, she is my little girl again. My sweet girl is caught between two worlds, not yet a woman and not ready to fully abandon childhood. She has no way of knowing how much I pray that her life will be filled with joy and purpose. She can't possibly know that every time I look at her, my heart swells with pride and, at the same time, fills with dread that she may encounter hardships and real life problems. She can't possibly know how much I love her in this quiet moment.
I lean in and kiss her cheek in the moonlight. As my lips touch her soft skin, I attempt to indelibly brand my hopes and dreams on her. I leave the room, take a quick glance back and marvel at how quickly she is growing up. I blink back tears and silently close the door.
This article was originally published on