This Is How To Be An Ally In Trump's America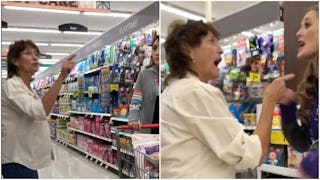 Image via Fabiola Velasquez/Facebook
A woman jumped in when two people were harassed for speaking Spanish
Kamira Trent was shopping at a Colorado grocery store when she overheard something disturbing. A woman, later identified as Linda Dwire, was yelling at two fellow shoppers for speaking Spanish to each other (yup, this is the country we're living in right now). Trent quickly stepped in to confront Dwire, which led to her eventual arrest. Video footage was captured of the incident and it's pretty incredible.
Trent told Buzzfeed News that she overheard Dwire admonishing two women from Mexico, Fabiola Velasquez and Isabel Marin, saying: "You're in America. You're in my country. You can't speak Spanish here. You need to speak English if you're going to be in America."
Trent walked over and reminded the woman that it's a free country, and Velasquez and Marin are welcome to speak whatever language they would like. Dwire fought back and the resulting argument was caught on video:
"I'm calling the cops. You leave these women alone. Get out!" Trent yelled. Dwire responded that Trent comes from "a generation that's destroying this country," to which Trent replied: "No I do not. I have respect. You do not harass people."
Trent proceeded to pull out her phone and chase Dwire out of the store all the while yelling at her not to harass Hispanic women. Dwire was arrested and charged with bias-motivated harassment. She is out on bond and heads to court in November.
Video of the confrontation, which was posted by Velasquez on Facebook, has since been viewed more than 1 million times. Many, many people applauded Trent's actions and pointed out that her response to racism is exactly how allies should act in Trump's America.
Meanwhile, Trent told Scary Mommy that she was just trying to do the right thing.
"If I was ever in that situation I would hope that someone would stand up for me," she explained. "What that woman said and the way she said it was wrong and uncalled for. In no way shape or form were my actions political. It had nothing to do with my political beliefs. It had everything to do with being raised right and standing up for what is right."
What Trent did was definitely wonderful, but she's right — we should all be doing this in the hope that someone would stand up for us in a similar situation. This is what everyone who considers themselves an ally needs to do. Speak up, because that's simply what a decent human does when they see a fellow human being horribly mistreated.
Velasquez and Marin later met up with Trent and the three women shared a hug, according to Buzzfeed. "It felt good to see someone who was born here defend us that way," Velasquez said.