Bank Fires Woman After Her Body Positive Photoshoot Goes Viral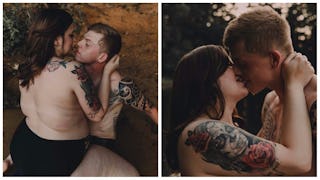 Image via Wolf & Rose Photography
She lost her job over a body positive photo shoot with her fiance
You may remember Stephanie and Arynn, the engaged couple who starred in a gorgeous, body-positive boudoir photo shoot that recently went viral.
These photos, shot by Wolf & Rose Photography's Bria Terry, are so gorgeous and powerful and we couldn't find one single thing wrong with them. But Stephanie's employer could. She just revealed that she was fired for taking part in this photo shoot. Yes, really. Take a moment. We had to.
Stephanie told Buzzfeed this week that shortly after the photos went viral, her employer, Austin Bank Texas N.A., told her they were "concerned" about how her participation in this lovely piece of art would reflect on the company.
"They said I was topless and it was inappropriate and we're a family-oriented company," she said, even though during the shoot, she was wearing a backless, strapless bra.
"There was no defending myself, they had made their decision," she continued. "I gave over a year to a company that I worked really hard for and then to have them turn on me for doing something so positive, something that I was so proud of — to help myself as a woman — it was hurtful. People were pulling out their phones at work and showing the pictures and that was blamed on me."
Beside the fact that it's 2017 and we need to let this kind of prudish thinking that a woman's back and shoulders and stomach are scandalous die once and for all, this is so sexist. Men are celebrated every day for showing off their bodies and being sexy. The fact that this news came literally on the same day that an all-male rowing team is being celebrated for getting naked really illustrates the double standard here.
This also breaks our hearts for Stephanie, who was so excited about doing something so powerful for women, exactly the opposite of what her company has done.
"My initial reaction to the idea of this shoot was, actually, excitement," she told Scary Mommy, as the photos were going viral. "We are always looking to try something new and different for both of us. I have always loved the idea of a boudoir session. The confidence radiating off the women, in those pictures, is something, I believe, everyone woman wants to see from herself."
Stephanie isn't letting this change how proud she is of the photos, though. And she said Arryn is still by her side and fully supportive of the beautiful images they made together.
"He knows it puts out a good message and helps me in my self confidence, and how I feel about myself," she told Buzzfeed. "He's all about it."
Stephanie's positivity and resilience are really shining here, and we know she'll land on her feet. But the fact that she's being punished for doing something so lovely is a truly disheartening reminder of how far we have to go before women and men truly are equal.
This article was originally published on