Woman Gives Birth On An Amtrak Train, Names Baby After Stranger Who Wouldn't Leave Her Side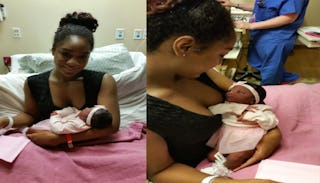 This mom unexpectedly gave birth while traveling on an Amtrak train.
Hospital birth or home birth? For one Philadelphia woman, the answer was neither, after she unexpectedly gave birth in the cafe car on an Amtrak train.
Sheera Lowe was traveling back home Saturday after visiting her husband, Michael Stokes, who recently started a new job in North Carolina. She wasn't due until March 4, and previously had a healthy pregnancy with her four-year-old daughter, Aaliyah, so she felt comfortable making the train trip on her own.
According to the Washington Post, Lowe started having contractions around 5:43 p.m. and thought her water had broken. She made her way to the cafe car to get help, and told a stranger named Christina, "Can you please help me? I think I'm in labor."
Christina sprang into action and notified Amtrak employees, who cleared the car and prepared to make an emergency stop in Aberdeen, Maryland, so Lowe could get medical attention. Christina stayed with the laboring mom, and at 6:01 — a mere eighteen minutes after her contractions started — Lowe gave birth to a healthy, eight-pound baby girl, just as police officers and an EMT boarded the train to help.
Lowe named her baby Trinity Christina Stokes — her middle name a tribute to the kind stranger who stayed with her throughout the entire birth. Lowe wasn't able to exchange information with Christina in the midst of all the chaos, but says she's so thankful the woman was there to offer her support. Says Lowe, "She wouldn't leave my side in the whole thing. I'm so happy and so grateful she stayed."
Lowe says she was concerned the other passengers would be angry about the unplanned stop in Aberdeen, but instead she was met with encouraging words and well-wishes from everyone on board. They even congratulated her as she left the train. "Everybody was so supportive," she said. "They were really sweet to me. It really brought a lot of happiness to my family."
Obviously giving birth on a train isn't an ideal situation, but it appears Sheera and everyone involved handled it like a complete boss. It just goes to show that even with all the careful planning in the world, you can never truly predict how or where you'll welcome a new little baby. As in most situations, it's the baby who's really in charge.
One day I'm sure Trinity will love hearing the story of her insanely unique birth, and about the selfless good samaritan who's responsible for her middle name. Unlike many, Christina didn't shy away from helping a stranger through what I'm sure was a scary and stressful situation. Instead, she dove in and met one of life's most unexpected moments head-on, and it's adorable that this new baby will carry a permanent reminder of the woman who stayed by her mom's side as she made her grand entrance into the world.
This article was originally published on