Woman Stalked By Capital Gazette Shooter Speaks Out: 'I've Been Tormented'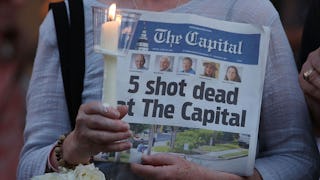 Image via Mark Wilson/Getty Images
Former Annapolis resident recounts years of terrifying harassment from Capital Gazette shooter
Before he went on a shooting rampage and killed five in a newsroom in Annapolis, Maryland, Capital Gazette shooter Jarrod Ramos relentless stalked and harassed a former classmate of his in the area. In fact, that's how the whole, heartbreaking story began.
Lori, who asked that her last name and current location not be used by media outlets, detailed years of harassment and fear in an exclusive interview with NBC News.
"I have been tormented and traumatized and terrorized for so long that it has, I think, changed the fiber of my being," she told NBC.
Lori said the harassment was so bad, she legitimately feared for her life (and rightly so, we now know). She said she was afraid Ramos "could show up anywhere, at any time, and kill me."
Lori's harassment case was reported by the Capital Gazette, which fueled Ramos' misplaced anger toward the paper — which ultimately led to the shooting. The paper published a column about Ramos' pleading guilty to criminal harassment after which Ramos sued both the column's writer and then-publisher for defamation. The suit was dismissed by a judge after Ramos was unable to prove the paper had published anything false or defamatory about him, but Ramos then went on to harass the paper and its staff on social media for years.
According to Lori, her harassment began in 2009, when Ramos emailed her to ask if she remembered him from when they went to high school together. She said they emailed back and forth for a while, but if she ever took too long to respond to him, Ramos would begin to threaten her. The entire story is beyond terrifying and tragic.
"He said, 'F you, go kill yourself, you're going to need a protective order,'" she told NBC. She also described Ramos as, "very cold, he is very calculated, he is very intelligent."
Even after police became involved and Ramos was convicted in the harassment case, Lori said the harassment continued, and she was so scared she moved to a different state. She said to this day, she has always been afraid that Ramos would find her.
Despite how common harassment like this is — women are stalked and harassed by men who turn out to be violent with terrifying regularity — Lori is glad to finally have the chance to speak out.
"One thing that I do feel now is that he can no longer silence me."