Woman Tries To Escape Abusive Boyfriend By Slipping Note To Veterinarian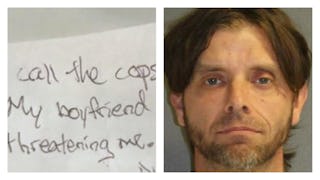 Image via FoxNews.Com
The victim's quick thinking may have saved her life
Imagine the horror of being held hostage at gunpoint and the bravery it would take to try to escape. One Florida woman did just that this weekend by slipping her dog's veterinarian a note to call the cops on her behalf.
The Volusia County Sheriff's Office said the 28-year-old woman who was being held captive by her armed boyfriend found a way to pass a note to her vet reading, "Call the cops, my boyfriend is threatening me. He has a gun. Please don't let him know," ABC News reports.
According to police, the victim had been held captive for two days and her quick thinking may have well saved her life. Police from the DeLand Police Department came to the DeLand Animal Hospital said Sheriff's spokeswoman Laura Williams, where they quickly arrested her boyfriend. He has since been identified as 39-year-old Jeremy Floyd, and has prior felony convictions on his record.
The woman told police Floyd had "repeatedly battered her on Wednesday night, threatened her at gunpoint, and physically prevented her from leaving their home," ABC News reports. Somehow she managed to convince Floyd that their dog needed a vet's attention and he agreed to take her, doing so at gunpoint.
The terror she must have been feeling throughout this entire ordeal unfathomable. For her to have the forethought to write a note knowing how much danger she was already in is incredible, given she'd already tried to escape him once days earlier. She told authorities that she initially tried to get help by jumping out a bedroom window and running down the street, but Floyd chased her down and dragged her back in the house and threatened her with sexual assault.
On the way to the clinic, the sheriff's office said Floyd pointed the gun at her and threatened to kill her and her family. Once they arrived, she went to the bathroom and there likely wrote the note that saved her, slipping it to one of the vet's staff members.
Floyd is now being changed with a number of crimes, including domestic violence, aggravated assault with a firearm, false imprisonment, simple battery, and possession of a firearm by a convicted felon. He is being held at Volusia County Branch Jail without bail.
The victim was taken to DeLand Florida Hospital and has been treated for her injuries — including her head wound, black eye, bruised arms and legs, and scratches on her hands and fingers.
This article was originally published on