Dog Mom's Directions For Her Pet Sitter Are Seriously Next-Level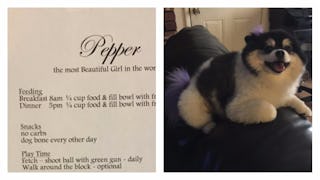 Image via Twitter
If you're going to babysit Pepper the Pomeranian, don't hate her cause you ain't her
We're all guilty of getting a little crazy when it comes to our pets. But Fresno, California, dog mom Elaine Diaz has taken it to a whole new level.
Diaz is mom to Pepper, a sweet, 3-year-old Pomeranian who, according to Buzzfeed News, loves cucumbers, is shy around strangers and gets treated like Diaz's child. Think that's an exaggeration? LOL. Just wait until you see the instructions Diaz left for her 20-year-old nephew, Tommy Rios, who volunteered to watch Pepper while Diaz was on a four-day vacation.
Rios tweeted a photo of the instructions, and the internet is rolling. Here's how to care for Pepper, "the most beautiful girl in the world."
Of course she's carb-free.
There was also a list of things Rios was not to do, including "Don't you hurt her!" and "Don't hate her cause you ain't her."
"It's my first time leaving her with my nephew Tommy and that's what was so nerve-racking for me," Diaz explained.
Rios' tweet went viral, and the internet cannot handle Diaz's next-level crazy dog mom-ness.
And naturally, some people needed assurance that Rios was following all of the instructions and taking proper care of Pepper.
The good news is that even though Rios didn't send daily photo updates to Diaz — "He's going to get in trouble for that," she said, "He didn't quite do it every day" — Pepper is happy and enjoying her viral fame.
https://twitter.com/jetpack/status/884641337592524801
Of course she has her own precious pajamas. Of course.
Hats off to Diaz for being the craziest dog mom in a world of crazy dog moms. Pepper is one lucky pup.