Woman Licks Ice Cream And Puts It Back On Grocery Shelf In Gross Viral Video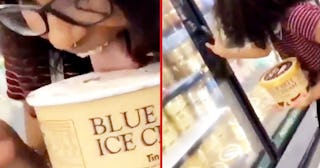 BlindDensetsu/Twitter
The documented food contamination crime went down in a Texas Walmart store
Ice cream. Whether it is chocolate, vanilla or Ben & Jerry's new anti-trump Pecan Resist flavor, it's a nearly undeniable fact that the majority of humans find it to be one of the most delicious foods on the planet. According to a recent poll, 98 percent of all U.S. households purchase the cold, sweet and delectable treat and 87 percent have it in their freezer at any given time.
While many of us salivate at just the sight of a tub of chocolate ice cream at the grocery store, we are forced to demonstrate a little bit of willpower and wait until we are home before indulging our taste buds. It's hard, really. But apparently not everyone can act rationally when presented with a sealed tub of ice cream in the retail environment, as can be witnessed in a shocking (and super gross) video that went viral last week.
In it, an unnamed woman is seen opening a container of ice cream, swiping her tongue across, closing it back up again and putting it back on the shelf. All sorts of yuckiness and weirdness all-in-one, right? Well in addition to being downright gross, licking ice cream and returning it to the shelf is also illegal and the ice cream licking offender is now facing the possibility of prison time because of her disgusting prank.
According to police, they have possible identified the woman who was filmed in the Lufkin, Texas Walmart store thanks to surveillance video. While they are in the process of verifying her identity, once confirmed they will issue an arrest warrant and she could be charged with a second-degree felony of tampering with a consumer product. According to Texas state penal code, the charge is no joke and comes with a two- to 20-year prison term in addition to $10,000 in fines. She could also face federal charges and possibly have to deal with the FDA as well. Police are also looking for her partner in crime, the man behind the camera instructing her to "lick it, lick it."
"Our detectives are working to verify the identity of the female suspect before a warrant is issued for her arrest on a charge of second-degree felony tampering with a consumer product," a police spokesperson said, according to NBC News. "As that portion of the investigation continues, detectives are focusing on identifying the male (in the green shirt) behind the camera seen in images of the two entering the store together."
Blue Bell Creameries, the local Texas ice cream manufacturer who produced the ill-fated tub of "creamy vanilla ice cream with swirls of chocolate fudge and dark-chocolate-covered roasted peanuts," is appalled by the act, calling it a "malicious act of food tampering." Walmart has since taken action, removing every tub of the flavor from their shelves as a precaution.
While this is obviously completely nasty, it would be pretty ridiculous if the "criminals" involved in the case have to serve serious prison time. Chances are, these filmmakers didn't really realize the severity of their crime. Sure, what they did is wrong. Contaminating food products is no joke and ignorance is never an excuse, but let's save space in our prisons for murders, rapists, child molesters and money embezzlers instead of pranksters with truly awful judgment.