Woman Wins Halloween With Genius 'Amazon Prime' Costume
by Sarah Hosseini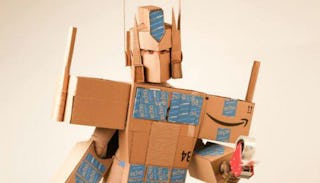 Image via Caron Arnold/Fusion Marketing
You'll wish you'd thought of this Amazon Prime costume
Just when you think you've got a kick ass costume you see one that blows away all others. And no, it's not one you can buy or order anywhere. Well, maybe if the costume sells on Amazon Prime.
The famous internet retailer is in part what inspired this elaborate get up. Caron Arnold combined her love for Amazon with the pure awesomeness of Transformer Optimus Prime, and the result was one genius costume. I mean, goals.
"As you can see, I'm a good customer," she tells Scary Mommy. Indeed. She made the brilliant and wonderfully crafted costume for her office's costume contest at the marketing agency where she is the Creative Director.
Arnold doesn't work for Amazon, nor is she affiliated with them. She just fancies ordering from the brand. In all, the project took about 10 hours to build over a few days and she had her kids, 8-year-old Leo and 11-year-old Issac, as helpers.
"They tried it on as much as they could while I was building it," Arnold says. "I see additional cardboard helmets for them in my future."She also gives mad props to the making, crafting, and instruction building and sharing site Instructables. That's a hint, hint for all of you still looking for the best Halloween costume. You're welcome.So did Arnold win the office contest? Of course she did. She beat out Morticia, Wednesday Adams, and NintendoDUDE. Here's a photo of the contestants.
And here is one of her and NintendoDUDE duking it out.
As for her trick-or-treating plans, does she plan on donning her costume on Halloween?"I don't plan to wear the costume on Monday. The visibility is low and I want to enjoy seeing my kids trick-or-treat."We totally get it, but a little disappointed a bunch of kids won't be able to see her tromping down the street, a real-life Optimus Prime Mom.
[free_ebook]
This article was originally published on