This Woman Got Sick Of Men And Married Her Dog And We Get It TBH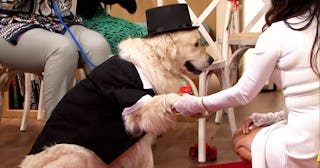 This Morning/Youtube
A British woman married her dog on a daytime talk show and we're here for it
After giving up on dating men, a 49-year-old woman said "screw it" and married her dog. Elizabeth Hoad and her golden retriever Logan "wed" on British daytime talk show This Morning, and we put "wed" in quotes because we seriously hope it's not like, legally binding.
Hoad has one 25-year-old son, but says she's never had a lasting romance. In the last few years she says she's been on 221 dates and girl, woof, we'd marry our dog too if we had to endure that noise.
"I tried every app. MillionaireMatch, Tinder, but it don't have any luck. Maybe it's me?" Hoad said on the show (via NY Post). "Older men [want] the younger woman and vice versa. I've had younger men asking me out but it's just not right."
She said the last straw was when she briefly dated a guy she met online, only to later find out that he was married.
"After that my friends who previously joked about marrying Logan, my dog, became more serious, and I thought, 'Why not?'"
Uhhhhhhhhh.
One thing led to another and now Ms. Hoad is now Mrs. Logan, the dog (we guess??).
The televised wedding was extremely British and a veritable who's who of UK tabloid culture. It was officiated by former Big Brother contestant and current This Morning host Alison Hammond, the best man was Love Island winner Kem Cetinay, and The X Factor contestant Andy Abrahams sang during the ceremony.
The ceremony was basically all dogs puns — "If anybody has a bone of contention as to why they should not be joined together, I will now paws to let them speak or bark or forever hold their peace." Nobody could stop giggling during the entire ceremony, except for Hoad — who took it very seriously.
Despite the general um, uniqueness, of the event, Logan really is one handsome and Good Boy. Look at that face!
Derp derp derp.
Upon hearing the news that a human lady married a literal dog, the internet burst into memes.
However, not everyone found it delightfully strange, and we get it. Same sex marriage is still illegal in many parts of the world, so we can imagine that seeing a straight lady "marrying" her dog on TV would feel like a slap in the face.
But in all seriousness, Hoad said she and her dog truly saved each others' lives and that is a love we can all get behind.
"He had a traumatic first four years being locked and beaten in a utility cupboard," Hoad said. "He's saved me and I've saved him. I was a broken woman when my last dog died."
Aww. What a sweet story and a totally weird wedding that we're actually kind of here for.