Woman's Photo Comparison Proves Clothing Sizes Are Bullsh*t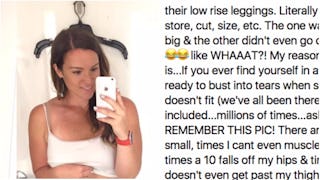 Image via Instagram
A woman's viral photos remind us that our worth doesn't come from a clothing size or number
We all know clothing sizes make no sense. We might be able to squeeze into a size six skinny jean from H&M, but not get a size 12 from Anthropolgie over our knees and we're swimming in a size four from The Gap. We know we shouldn't care so much about sizes, but sometimes…well, we forget and before we know it, we're cussing in the dressing room at Old Navy.
In other words, sometimes we need a reminder that clothing sizes are bullshit and this time, it comes to us via Katy Hamilton, who shared side-by-side photos showing just how ridiculous clothing sizes are – even from the same store. In the same size.
https://www.instagram.com/p/BWiX6vSB8gP/
After losing more than 70 pounds, Hamilton needed some new clothes, so she hit up her local mall. Heading into Express (they were having a "buy one, get one for $20" sale), she grabbed two pairs of their low-rise legging jeans in the exact same size and cut. The only difference – one was black, one was dark blue. Well, at least that should have been the only difference.
In an Instragram post, Hamilton posted photos showing just how different the two pairs of legging jeans were and explaining, "These are both a size 10 short from Express in their low rise leggings. Literally the same store, cut, size, etc. The one was a hair too big & the other didn't even go over my thighs."
Hamilton shared the photos to remind us all that clothing sizes are nonsense.
"If you ever find yourself in a fitting room ready to bust into tears when something doesn't fit (we've all been there, myself included…millions of times…ask my mom) REMEMBER THIS PIC," she writes.
Show of hands if you haven't fought back tears in the dressing room trying to find a pair of jeans fit. I know I have.
"Sizing is silly," she continues. "No one will know if you had to bump up or down because of the cut, style, or likely completely wrong sizing on the store's part. You mean so much more than fitting into the smallest size you can."
Hamilton tells Today she felt compelled to post the photos to remind people that the sizing is what needs to be fixed, not our bodies.
"We shouldn't be defined by some arbitrary size," she says. "I'm a huge proponent of finding the value we place in our lives and ourselves outside of numbers — calories, followers, salaries, weight or clothing sizes — and wanted to spread that message to others."
Bottom line, says Hamilton: "Our value should never come from a number…on the scale or in our clothes."
Amen to that.