Woman Raises Over $300K To Help Homeless Vet Who Gave Her His Last $20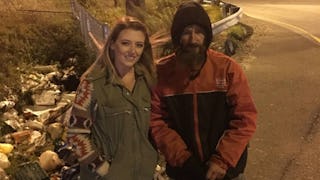 Image via GoFundMe
Kate McClure's GoFundMe campaign has raised over $300,000
It's said that one act of kindness can change someone's life and the world. But rarely do we get to see this magic unfold before our very eyes like we do with Kate McClure's story of being rescued by a homeless man. The best part is, she rescued him right back.
McClure was driving down Interstate 95 in Philadelphia one night last month when she ran out of gas. Nervous and scared she pulled over as far as she could and got out to walk to the nearest gas station. That's when she met "Johnny" a homeless man that sits on that side of the road every day, holding a sign.
"He saw me pull over and knew something was wrong. He told me to get back in the car and lock the doors," she writes on her GoFundMe page (we'll get to that remarkable GoFundMe page shortly).
A few minutes later he came back with a red gas can. McClure says he used his last $20 to make sure she had gas to make it home safe.
She didn't have cash to repay him right then and there, and he didn't ask for it either. In the weeks that followed she stopped by his spot regularly and repaid him for the gas, brought him a jacket, gloves, socks and a few dollars.
McClure and her boyfriend Mark D'Amico wanted to do more though. So they created a GoFundMe with a goal of $10,000 to get Johnny first and last months rent, a reliable vehicle, and a few months worth of expenses.
"We wanted to make sure he was safe, and go from there," McClure told CNN. "I remember when we got our first donation, we were like, 'holy crap.'"
They recorded a video when the donations started rolling in which amounted to $769 at the time. "God, that's amazing. Damn, y'all did all that. That is awesome," he said.
Amid his shock and excitement, Johnny reflected on the kindness of people in Philadelphia.
"People talk about Philly…I have honestly met more good people than bad. I really have. Like y'all," he said.
Since that video was recorded, the hundreds have turned into thousands. In 14 days, the GoFundMe raised over $350,000, which they believe will help get Johnny back on his feet after a rough go for some years.
Turns out "Johnny" is Johnny Bobbitt Jr. who is originally from North Carolina. He was an ammunition technician in the Marines, according to the Philadelphia Inquirer. He's been homeless in Philadelphia for about a year and a half.
"Johnny has reflected on his life," D'Amico said. "He just needs a push in the right direction. I can't imagine how hard it is. He's from the Carolinas. He's a thousand miles from home with nothing, nobody. Things probably snowballed to where he's living under a bridge."
When you think about it, it could really happen to anyone. A turn of life events could leave any one of us homeless and in need. Regardless of the circumstances of how people become homeless, it doesn't mean they don't deserve a little grace and compassion.
"He knows where he's at and he knows what he has to do to dig himself out," D'Amico said. "It's almost impossible to dig himself out if he has nobody and nothing. If we can raise enough money to set him up for a few months, where he doesn't have to worry about where he's going to sleep and what he's going to eat, then he can get a job and go about his life."
Judging by the mountain of donations, getting a fresh start has certainly been made much easier for Bobbitt. And while having the money is great, it doesn't drive the whole experience. It's the connection and kindness that's really contagious and long-lasting.
"Just to see him react the way he does is such a good feeling," McClure said. "I mean, it really feels good."
This article was originally published on