Woman Shouts 'F*ck Black Lives Matter' At Black Barista Over Mask Dispute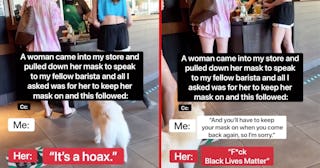 tiktokforbiden/TikTok
Young woman goes on Trump and Black Lives Matter rant over Starbucks' mask policy
At what point do we disband the idea that the "customer is always right," because during the COVID-19 pandemic, the customer is always an asshole. A white woman in San Diego, California went off on a Black Starbucks employee in a rant that started with a simple request to wear a mask.
The woman was wearing her mask down around her chin, so when the 19-year-old barista, identified as Alex Beckom, asked the customer to comply with Starbucks' policy and put on her mask, the woman went off, somehow bringing Black Lives Matter and Donald Trump into the discussion.
"When you talk to me like that, I know it's because you're discriminating against me because I'm a Trump supporter," the customer is heard shouting in a video captured on the scene. "F*ck Black Lives Matter. I need a straw."
Beckom keeps her cool while giving the Karen a straw and some sugar packets before calming reminding her that "the next time you come in, I need you to keep a mask on."
This sets the woman off — again — so she rants: "It's not a law. I can show you the penal code. It's a hoax, I don't have to wear a mask, I'm not going to wear a mask. This is America. I don't have to do what you say! Trump 2020!"
The woman finally leaves, but not before shouting "F*ck Black Lives Matter" one more time. As she leaves, a customer tries to apologize to the barista for the other woman's behavior.
Customer service employees should not have to endure this kind of behavior and for baristas like Beckom, she's not just putting up with entitled morons who hate masks, she is being forced to keep her cool and make drinks while facing blatant racism.
"I'm Black in America so I've dealt with these kinds of situations before," Beckom told NBC News San Diego. "So I'm able to stay calm and collected in these kinds of situations because I don't want to risk my job."
Though Beckom later elaborated on how she could not understand how Trump supporters are still refusing to wear masks.
"I don't know why it's all about individual rights when you're still hurting other people and your family," Beckom added. "Even the president got it (COVID-19). So I don't know how it's turned into a them or me situation when it should be everybody coming together to make sure we don't all get sick or get hurt."
While the ranting Starbucks Karen may not give a shit about her, or anyone else's health, Beckom does. The barista started a GoFundMe and is planning to distribute the funds to her coworkers at the store. "Every barista faces these situations, luckily mine was caught on video so I want to share the money with my coworkers," Beckom writes.