Hilarious Woman Struggling To Remove Her Face Mask Is All Of Us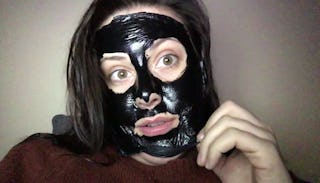 Image via Facebook
Her video is going viral because it's hysterical
Like the old saying goes, sometimes, you have to suffer for beauty. Actually, that's total bullshit — nothing you do to improve your looks should hurt, but when it does, it's best to have a good laugh like this woman who almost tore her skin off by removing a "black" mask from her face.
Facial masks meant to remove blackheads, commonly known as "black masks," aren't exactly the most relaxing spa-like treatment. They work by pulling all the gunk out of your pores, and also, most of the tiny hairs on your face. In short, they fucking hurt.
Singer and all-around funny person Erica St. Louis decided to post a video on Facebook of her miserable experience pulling one of these instruments of Satan off her face. We doubt she meant to make it this funny, which is just our good fortune.
If you've ever watched YouTube beauty tutorials, you'll understand St. Louis' frustration with how perfect and gorgeous these women look while pulling what basically amounts to dried-on tar from their faces. She tugs at the mask saying, "You're supposed to exfoliate, then put this on your face and then, wait 30 minutes and rip it off. And there's all these videos online of these women doing it and they just like, put it on and there's this little time-lapse of them and they just, peel it off."
Sounds easy enough, but as St. Louis yells, "And that is total crap, because this hurts! It's literally ripping every tiny hair off my face!"
It makes us feel bad for laughing, but she somehow manages to make this painful situation incredibly entertaining. She continues trying to remove it saying, "If I don't look good after this I'm going to be a very angry bird." And we can't say we blame her, since losing a layer of epidermis should come with some pay off.
The next several minutes are just St. Louis trying her darnedest to free herself from the shackles of this terrible thing while she utters choice phrases like, "I don't get how these women look good doing this," "I look like a dinosaur," and "Seriously, this has to END."
The poor woman obviously set out for an evening of pampering and got a whole lot more than she bargained for. "Have a night off, take a long shower, do a mask, she said. Like, all relaxing and nice and now I just regret my life."
We feel for her.
Most of the time, she sounds like she's breathing through contractions, which makes sense, as her caption reads, "WHY did nobody tell us it hurts like childbirth?!?!"
Finally, after several torturous minutes, the stupid thing comes off. St. Louis says, "Now, we inspect it for gunk. And all I see are the roots to every tiny hair on my face." She goes on to lament what she sees as a betrayal from her fellow women. "I feel lied to. I feel like someone in the female community let me down."
I totally get where she's coming from, as I hopped on the "charcoal" beauty treatment bandwagon myself earlier this week. I tried a pore strip, and even though it was only on my nose, it took quite a while to remove and caused serious soreness for several hours afterward. It did, however, yield a little forest of gross pore gunk that I happily stared at while my nose was on fire. Good times.
But as St. Louis reminds us, no woman should go into this unprepared. "People need to know what this is like! It's literally like a full facial wax!"
You heard her, ladies. Spread the word. And beware the scary black masks. If you're attached to your skin, that is.
This article was originally published on