Woman Pays For 20 Hotel Rooms For Homeless To Escape Freezing Temps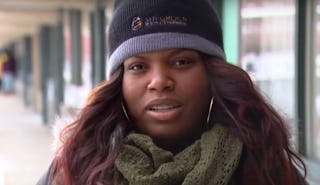 Image via YouTube
This woman's kindness is now responsible for a huge movement to help homeless people in Chicago
Much of the northeast and midwest spent the better part of the past week dealing with frigid temperatures. Some areas, like Chicago, experienced wind chill temps that were 40 below zero or more. This means much of the city's vulnerable population — elderly people living alone and the homeless — were at major risk. One woman used her personal finances to rent 20 hotel rooms to give homeless people a warm, safe place to stay during the polar vortex.
Candice Payne, the woman whose act of kindness helped several homeless people stay warm through the life-threatening temperatures, charged the hotel rooms on her credit card. She posted about the rooms on social media, and soon enough, donations from strangers who wished to help came flooding in.
"Maybe they didn't know how to or where to start to help, so I'm glad that I was able to be that vehicle," she tells CBS Chicago.
On Wednesday, the temperature dipped to 22 degrees below zero (that's not counting the wind chill factor). A group of homeless people in the city were forced to abandon their tents near a highway after a propane tank they were using as a source of heat exploded.
Inspired by Payne's act of kindness, she and fellow volunteers used their own money to pick up the tab for a total of 60 hotel rooms on Chicago's South Side. The volunteers worked together to turn the hotel bathrooms into makeshift kitchens, and continued collecting donations to help everyone who needed it.
Jermaine and Robert, two men who stayed in the hotel, call Candice an "angel." They were prepared to sleep on the street and face charges of trespassing in an attempt to escape from the cold when they heard about Candice's generosity on the news.
"We don't get that type of help," Jermaine tells CBS Chicago. "I really needed them at that point, so they came right in time."
Many people on social media were quick to applaud Payne's kindness.
It's heartwarming to see people coming together to help those in need during such dangerous weather, especially since the polar vortex is directly responsible for at least 22 deaths this week.
The volunteer group has so far been able to cover three nights at the hotel for approximately 80 people. Payne says they hope to continue working together to help provide a more long-term solution for these people in need.