93-Yr-Old's Funeral Request: In Lieu Of Flowers, Don't Vote For Trump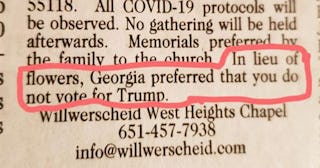 Carrie Swanson/Facebook
Georgia May Adkins had one dying wish for her friends and loved ones: Do not vote for Donald Trump
2020 is undoubtably one of the most important elections in history. Since Donald Trump was elected President in 2016, the country has been faced with political, social, racial, and economic unrest, with the addition of the worst pandemic in over 100 years. While many people are out campaigning for a change of arms, Georgia May Adkins, a 93-year-old Minnesotan woman, didn't have the opportunity as she died of a stroke on September 28. However, to honor her spirit she issued a creative request for her friends and family: Don't send flowers, just don't vote for Donald Trump on election day.
Adkins, who resided in the Twin Cities town of Inver Grove Heights, died of a stroke on Sept. 28 at United Hospital in St. Paul. Two obituaries were published. One, a short but poignant paragraph that appeared in the St. Paul Pioneer Press with details about her Oct. 16 church service under COVID-19 protocols, and a request from loved ones asking to refrain from patronizing a florist.
"In lieu of flowers, Georgia preferred that you do not vote for Trump," her Oct. 11 obituary read.
Her statement was not only embraced by friends and family — but the entire internet — going viral on Twitter, Facebook, and Reddit.
"This woman – Georgia May Adkins – is a patriot. I wish her everlasting peace and/or other worldly shenanigans!" wrote one individual on Twitter.
https://twitter.com/jetpack/status/1319100861503635456
"Georgia May Adkins, it was a delight to grant your final wish. Rest In Peace, fierce sister!" wrote another.
"THE Republicans chose to ignore RBG s dying wishes. Let's honor her by living up to those of #GeorgiaMayAdkins," one woman wrote, sharing one of Trump's tweets claiming a win was in his future.
In addition to being a political influencer, Georgia May Adkins lived a full life. She was preceded in death by two husbands, Eldon Thomas Adkins, and Edward Donald Wille, as well as a sister, son, daughter and stepdaughter. Additionally, she left behind three daughters, a son, two stepdaughters, 17 grandchildren, 24 great-grandchildren and even one great-great-grandchild.
"She graduated from Johnson High School; retired after 32 years at West Publishing Company as a linotypist; was a member of St. Stephen's Lutheran Church, West Saint Paul; was a pre-COVID-19 Sunday brunch regular at the Downtowner Woodfire Grill, Saint Paul; and was a resident of Timber Hills Senior Independent Living Apartments in Inver Grove Heights, MN," her longer obit reads.
According to Newsweek, Adkins' family is overwhelmed by the response to her obituary, with her granddaughter, Amber Westman describing her as "fierce every day and remains so through her legacy!" in a Facebook post. "I appreciate all the lovely things being said about her and will make sure to share this with the whole family!""