Bride-To-Be Hilariously Nails Ring Photo During Post-Engagement Space Mountain Ride
by Julie Scagell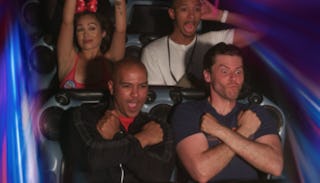 Image via Sonni Vargas
Getting engaged at Disneyland is great but this photo of her ring is epic
Getting engaged to the love of your life is an exciting moment in time. Of course you want to savor the moment with your brand new fiancé but hellllooooo, you also want to shout the big news from the rooftops and call every single person you know. Stat. But one bride-to-be may have won the award for most killer way to announce her engagement — from the top of a rollercoaster at Disneyland.
Sonni Vargas said "yes" to boyfriend (now fiancé) Jordan Williams over the weekend at the most magical place on earth: Disneyland. Williams proposed right outside Sleeping Beauty Castle in front of hundreds of people and Vargas promptly shared the exciting news with the world (after saying yes, of course).
"I SAID YES!!! I can't wait to marry my best friend," she wrote, including some adorable pics of the moment.
But it was the last photo that really got people's attention — Vargas proudly pointing to her bling at the top of Space Mountain while the three other people pictured (all male, I might add) literally lost their shit.
Seriously? You nailed it, girl.
"We went to Disneyland just for fun, I am a Disneyland Passholder so I go all the time but my fiancé is in the US Navy and is stationed in Florida so we are long distance," Vargas told Scary Mommy. "Whenever he comes home we go to Disneyland. So that day felt like any other day!" Vargas said they were having fun and taking pictures when Williams got down on one knee and asked her to marry him.
As for the picture, Vargas said since she's a Passholder she "knows where all the cameras are in all the rides." She said she usually does something funny but this time she wanted to show off her ring. And that she did.
Williams also shared the good news on social media with even more amazing pictures. "I'm engaged to my best friend, my lover, my soulmate and I couldn't be any happier!" he tweeted. Seriously, could this couple be any cuter? The answer is no. No, they cannot.
Obviously, the good folks of Twitter couldn't get enough of this engagement photo:
https://twitter.com/jetpack/status/1016374778049916928
For those of you who've never had the pleasure of riding on Space Mountain, here are a few fun facts for you: You propel through this galaxy (and several hidden drops) going almost 30 mph. There are two tracks to choose from — the Alpha and Omega, both over 3100 feet long. At its peak, the rollercoaster is 180 feet in the air. Ohhhhh, one more thing I forgot to mention — you are cloaked in goddamn darkness during the entire two and a half minute ordeal.
I went once and nearly hyperventilated while standing in line for the ride.
I only mention this to further point out what a total badass this new bride-to-be is and that the photo may go down as the single best in Space Mountain's history.
The happy couple haven't shared when they plan to tie the knot but judging by what we've seen so far, it's sure to be a most joyous, kick-ass occasion.
This article was originally published on