This Woman Offers To Be A 'Stand-In Mom' At Same Sex Weddings
by Cassandra Stone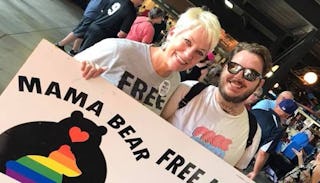 Image via Sara Cunningham
A 'stand-in mom' hopes to help LGBTQ couples find love and acceptance on their wedding day
An Oklahoma woman has quickly become the most popular mom on the internet by volunteering to be a "stand-in mom" for LGBTQ weddings — because not all parents love unconditionally, and you might want one who does at your wedding.
Sara Cunningham is the executive director for Free Mom Hugs, an organization comprised of "affirming parents who love their LGBTQ+ kids unconditionally and take those hugs of love and acceptance to others." She's also the author of How We Sleep at Night: A Mother's Memoir.
Recently, a Facebook post of hers went viral when she offered to take those hugs of hers all the way to the altar for couples who may need it by filling in as a "stand-in mom."
Cunningham tells Scary Mommy she decided to share the post because she's heard too many stories about unaccepting parents not showing up to the weddings of their same-sex and LGBTQ weddings. "The post was made out of frustration from hearing from same-sex couples expressing fears of parents not showing."
She's currently an ordained minister at the LGBTQ-affirming Expressions Church in Oklahoma City, but she admits she initially struggled with her own son's sexuality. "I'm a woman of faith. We live in a conservative town," she told CBS. "I felt like I had to choose between my child and faith. I was under this impression it was the ultimate offense." After her son confronted her about her need to accept him, she and her husband began attending Pride events in their hometown. "It was my first interaction with the community that I was so alienated from by my own ignorance and my own fear," she said. "I realized this was a beautiful community."
Free Mom Hugs promotes resources for the LGBTQ community — schools, businesses, and hospitals. They also offer advice to parents who may be experiencing difficulty with accepting their children. Since her recent post went viral, she says she's received an outpouring of affection toward the LGBTQ community. "The response is beyond anything I could have imagined," she says. "I've received several wedding invitations that I DO plan on attending."
She's received lots of positive messages from members of the community who want to tell her how her post made them feel.
Her biggest piece of advice for the couples who are reaching out to her: "Keep lines of communication open — as long as it's a safe zone," she says. "As long as the parents are willing to have the conversation, many non-affirming parents will see the couple grow together and eventually accept the union over time." Cunningham tells us that moms with LGBTQ kids can email Liz Dyer at Lizdyer55@gmail.com to be added to a private Facebook group for parents with the LGBTQ kids. She calls the group "a wellspring of support and resources."
She also realizes this is not always the case for many members of the LGBTQ community. "I encourage the couple to surround themselves with people who will love and support them," she says. "If they aren't getting it from their blood family they need to look outside of it and don't stop looking for it until you find your tribe."
This article was originally published on