Sure, You'll Wear It Again: Woman Rocks 20-Year-Old Bridesmaid's Dress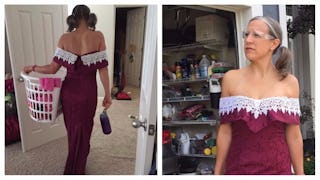 Image via Heidi Mann
Now, this is true friendship
Odds are, if you have ever gotten married and had bridesmaids in attendance, you have uttered the words "but you can totally wear this dress again." To which your oldest and dearest friends smiled politely to your face then cursed profusely behind your back. But one woman in Kansas decided to prove that you can, if fact, rock a bridesmaid dress – even 20 years later.
Tammi Sauer, a children's book author and mom from Oklahoma, posted a throwback picture of her wedding day on her anniversary that said, "These two 22-year-olds are celebrating 22 years of marriage! Hubba-hubba. (My apologies for those dresses, ladies.) While dozens of friends and loved ones posted the standard "Happy Anniversary" congratulatory messages, one friend decided to take it to the next level.
Heidi Mann, a friend and former bridesmaid immediately responded, "What do you mean sorry about the dresses? I wear mine all the time," and proceeded to post a series of pictures of her wearing the burgundy number while doing laundry, watering her flowers, and casually reading a book. She is bridesmaid AF.
Mann told Scary Mommy, "Tammi and I rarely see each other, but we regularly laugh at one another's FB posts. We are currently scheming to try to get an author visit scheduled at several of the local schools in the Kansas City Metro. I personally think that a reading of Mary Had A Little Glam would be perfect done in Tammi's wedding gown."
Just so you know, Heidi Mann, you officially have a waiting list for new friends.
"Apparently, not everyone in 1995 wanted a long, off-the-shoulder gown in a burgundy brocade fabric that looked like a Thanksgiving tablecloth," Sauer told Buzzfeed News. "Those dresses were handmade by moms, grandmas, and random seamstresses."
This story just keeps getting better.
Who can't appreciate looking back on pictures from decades earlier and seeing the total carnage we thought resembled fashion? Sauer's dress choice was perfection for the early 90's and we are glad at least one of her friends appreciates that dress for all of its awesomeness.
Mann said her mom kept all of her bridesmaid's dresses from the Ghost Of Weddings Past. "Over the years I've been known to randomly put one of them on, join whatever the family is doing, and act like it's completely normal to be wearing a bridesmaids dress," Mann told Scary Mommy.
Sauer's response when Mann posted the pictures? "This right here is the best anniversary present ever."