Women Get Booed Out Of Pool For Telling Gay Couple To Stop Kissing
by Christina Marfice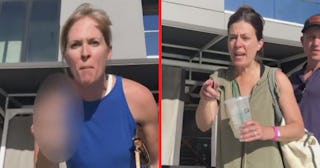 abc10
Women who wanted a gay couple to stop kissing because children were present dropped all the F-bombs while being escorted out of a Sacramento hotel pool
It's Pride, which means those of us who understand equality and basic human rights are celebrating love, expression, and the long fight the LGBTQ+ community has endured (and continues to endure) to secure equal rights around the world. But some people still just cannot get on board with that, so today, we have this viral video of a group of white women throwing tantrums as they get booed out of a hotel swimming pool for their blatant homophobia.
This horror show reportedly happened at the Kimpton Hotel pool in Sacramento. Reports say a group of women repeatedly approached Domonique Veasley, a Black queer woman, and her girlfriend, and asked them to stop kissing in the pool because there were children around. Bystanders say plenty of other couples were showing PDA, but that these women only approached Veasley and her girlfriend, and eventually even called security on them.
The video shows pool goers shouting "Shame!" at a group of (of course) white women, who start shrieking at them about whether they have children. Amid all their concern for the very delicate eyes and ears of the kiddos, one of the women shoves her middle finger in the face of the person who's filming and screams, "Fuck off!" Yes, tell us more about how worried you are that the children will be negatively impacted by seeing a normal couple showing normal love and affection.
https://twitter.com/jetpack/status/1399815300783169545
"It would've been a beautiful moment for her to teach about love to her kids but instead she decided to sexualize two women. This is not okay anymore, it's 2021," Veasley told CBS Sacramento. "My initial reaction for the children was 'Oh yeah,' and then I was like 'You are asking me to stop being me.'"
Naturally, the women now have a lawyer, who released a statement on their behalf saying they aren't homophobic, but that Veasley and her girlfriend were having "intercourse" in the pool area in front of children. Somehow I find it just a bit hard to believe that all these people in the pool area took the side of Veasley and her girlfriend if that were true.
Arthur Kaligos, the person who recorded the now-viral video, told CBS that he's gay, so he felt like he definitely needed to stand up for Veasley and her girlfriend.
"We've seen this over and over again," he said. "It's not okay to ask people to adjust their behavior for your comfort."