Women And Children Are Starving In The 'Worst Humanitarian Crisis In The World'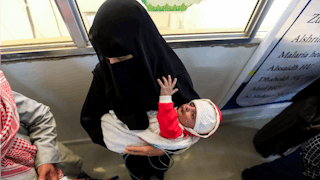 AFP / Getty Images
You can't tell by glancing at her, but Umm Mizrah is starving to death. The long black robes she wears from head to toe hide her gaunt, 83-pound frame and the barely visible roundness of her pregnant belly.
She steps onto a scale at the doctor's office holding her 17-month-old son, and the number increases to 95 pounds. Her son weighs half of what he should, despite his young mother starving herself to feed him. The doctor presses a finger into the baby's skin, and the indentation stays—a sign of dangerous dehydration.
This scene described in The Independent has become all too common in Yemen. According to the European Union, Yemen is now home to the "worst humanitarian crisis in the world." Three years of war and famine have led to a human toll that boggles the mind.
Around 2.9 million women and children are acutely malnourished. 400,000 children face deadly starvation. Nearly a third of the country's population—8.4 million people—rely entirely on humanitarian aid to get food, and that number keeps increasing.
Yemen was already the poorest country in the Middle East before the civil war broke out in full force in 2015. And the conflict between the Houthi rebels and the Saudi-backed Yemeni government has been particularly bloody. The U.N. has stated that all parties engaged in the war may have committed war crimes and violated humanitarian law, with deadly airstrikes, rape, torture, and recruitment of child soldiers as young as eight years old on the list of atrocities.
And the U.S. is complicit in some of these tragedies. Recently, a missile sold to the Saudis by the U.S. hit a bus full of schoolchildren on a field trip, killing 40 children and 11 adults—and not by accident. Saudi Arabia is the single largest buyer of arms for the U.S. and the U.K., but as Senator Chris Murphy, who serves on the Senate Foreign Relations Committee, told NPR, "the United States is not obligated to take part in these civil wars if both players are potential war crimes violators." Murphy feels that cutting off our arms sales may pressure the Saudis to pursue a diplomatic solution to the conflict.
Regardless of who is responsible, the war has led to regular, horrific civilian casualties. Add famine, widespread starvation, and cholera outbreaks, and we have a real-life hellscape that's hard to fathom.
Yemen has less than a tenth of the population of the U.S. While numbers are difficult to verify, Save the Children estimates that 50,000 children died of starvation and disease last year alone in Yemen—more than 130 children a day. That's the equivalent of more than 500,000 children starving to death or dying from disease as a result of malnourishment in our country. It's too much to take when one child is too many.
The natural response to such shocking statistics is to ask what we can do to help. As a country with vast social media reach and some of the greatest financial means in the world, the best things we can do are spread awareness about this crisis and send money to support aid efforts.
Here are a few organizations to start with:
The IRC's mission is "to help people whose lives and livelihoods are shattered by conflict and disaster to survive, recover and gain control of their future." They provide water, food, healthcare, and sanitation services to a quarter million people in Yemen. They also train people in the treatment of cholera.
Mercy Corps's mission is to "alleviate suffering, poverty and oppression by helping people build secure, productive and just communities." The organization has been in Yemen since 2010 and have been providing emergency services, food and water, and medical care since the war began. In addition, they provide cash-for-work programs and vocational training to provide much-needed income and economic relief.
Oxfam's mission is "tocreate lasting solutions to poverty, hunger, and social injustice. create lasting solutions to poverty, hunger, and social injustice." In Yemen, Oxfam provides clean water and sanitation in hard-to-reach areas, provides cash payments to families to buy food or livestock, uses cash-for-work programs to help people gain income, and works with other agencies to respond to additional crises such as cholera outbreaks.
The suffering and trauma mamas and babies in Yemen are experiencing should not go unnoticed. I try to picture what it must be like to watch your child starve before your eyes, to have no options, to wonder if it's worse to witness their slow demise or to have it ended quickly in a bombing.
I try to put myself in Umm Mizrah's shoes, to imagine what she must be feeling, but the more I read about this crisis, the more I realize that my imagination is inadequate.
For instance, I had pictured her 17-month-old crying because his belly was empty, but I was missing one devastating detail.
Children dying of starvation can't produce tears.
This article was originally published on