#WomenEatingFood Is The Instagram Trend You're Gonna Want To Get Behind
by Thea Glassman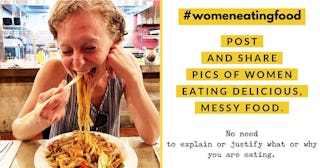 Cassia Jbeili and Alissa Rumsey via Instagram
Women are posting pictures of themselves eating food on Instagram for the best reason
You know when you really go to town on a plate of food and don't care AT ALL what you look like in the process or how it will effect your body? Well, dietician Alissa Rumsey and body coach Linda Tucker want women to capture that exact feeling of joy and messiness and freedom on Instagram. The duo started the hashtag #WomenEatingFood to reinforce the idea that eating should be about pleasure and totally divorced from self-judgement.
The Instagram movement started when Rumsey's boyfriend snapped some shots of her gleefully chowing down on a Publix sandwich. Those pictures got her thinking about something her client once said about women and food.
"She commented on how rare it is in the media to see women just enjoying food, all sorts of food, without any commentary on how 'good' or 'bad' the food is (or they are, for eating said food), and without any remarks or criticism of their bodies," Rumsey recalled. "Just simple, pure enjoyment of delicious food."
Rumsey decided to put out a call-to-action for more pictures of women enjoying their meals and tacked on the hashtag #womeneatingfood. People came through – big time. More than 600 pictures flooded in of women enjoying the hell out of pizza, sandwiches, and other things loaded with pure, unadulterated deliciousness. The only rule? They couldn't bring up anything about the healthiness or unhealthiness of their meal.
Irina Ponomarev, a dietician, shared a snap of herself enjoying a very yummy looking bowl of noodles, along with the caption: "Happy to join this movement. As dietitians, we love to eat FOOD! And we encourage you to do the same."
Fellow dietician Laura Iu also hopped into the conversation and added some very important thoughts about women and eating. "Rarely in media do we see photos of just women eating food, unapologetically, without judgement, without claiming that the food is 'bad' or 'good,'" she wrote. "Let's face it there's lots of things that are bad in this world, food + bodies shouldn't be one of them."
Iu's picture featured her mid-bite, chomping down on a delicious looking sandwich packed with delicious looking toppings.
There were so, so many more pictures where that came from. Rumsey posted a whole collage of submissions she received ft. ice cream and wraps and donuts and spaghetti and a whooole lot of joy.
"Because we so rarely see images of women eating and enjoying food – especially women who don't look like society's 'accepted' form of beauty – without explaining or justifying what or why they're eating, it's understandable that so many women feel like they can't eat and enjoy food without feeling guilty," Rumsey tells Scary Mommy. "Even the photos that do exist of women eating tend to be "traditionally beautiful", thin women who are perfectly made up, posing with food. So we rarely see photos or video footage of women just eating delicious, messy food without worrying about what they look like or if their makeup and hair are done."
Rumsey tells us, "I hope to continue to grow this movement and make it more diverse – encouraging and empowering women of all sizes, shapes, colors, abilities, and identities to feel comfortable sharing photos of themselves eating," she says. "If we continue to just see images of thin women eating food, the message this sends is that it's okay to eat and enjoy all types of food if you're thin, but not if you're fat. There is a double standard, and people in larger bodies tend to get monitored and judged based on what they eat while women in thinner bodies do not. We want ALL women to feel like they can eat and enjoy whatever food they want, without feeling ashamed or guilty or judged. We want women to be able to reclaim the space to enjoy food, uninhibited, without justifying or explaining themselves."
Amen.
"Trying to move away from what society and the media showcase (Google 'women eating' and ALL that comes up are images of thin, white women eating freaking salads) and instead normalize real eating," Rumsey wrote. "Because women DO eat!!"
YES. WE. DO. DAMNIT.
"We've gotten so many messages from women sharing how inspiring and helpful it has been to see these real photos," Rumsey says. "It makes them feel more normal. Unlike the usual "perfect" photos shared on social media, these real photos of women eating – no explanation, no apology, no judgment, no perfection – are helping to normalize eating for women."
This article was originally published on