Women Are Being Denied Education In Afghanistan Universities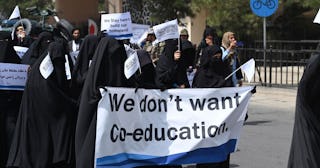 AAMIR QURESHI/GETTY
Chancellor says women are 'indefinitely banned' from education
What many feared would happen to women's education in Afghanistan is beginning to take shape. This week, the new Taliban-appointed head of Kabul University stated that women are now indefinitely banned from the university as instructors or students.
Chancellor Mohammad Ashraf Ghairat made the statement in a now-deleted tweet, saying that, "women will not be allowed to come to universities or work" until certain qualifications are met. "I give you my words as chancellor of Kabul University,"Ghairat wrote, "As long as a real Islamic environment is not provided for all, women will not be allowed to come to universities or work. Islam first."
Women immediately spoke up against the ruling. "In this holy place, there was nothing un-Islamic," one female lecturer told The New York Times. "Presidents, teachers, engineers and even mullahs are trained here and gifted to society," she said. "Kabul University is the home to the nation of Afghanistan."
The chancellor's stance show the Taliban, who seized power in Kabul in August, have changed little since it last ruled Afghanistan in the 1990s. During their earlier rule of the country, the Taliban imposed Sharia law, barring women from working outside the home, attending school, leaving their homes alone, working with men, and speaking out about anything that contradicts Taliban rule. Women were also required to wear the burqa and dress conservatively. If they were found guilty of adultery, they were stoned to death.
Malala Yousafzai, the youngest Nobel Peace Prize winner in history, spoke out as the Taliban took over earlier this year, fearful it would come to this. "We watch in complete shock as Taliban takes control of Afghanistan," she wrote on Twitter. "I am deeply worried about women, minorities and human rights advocates. Global, regional and local powers must call for an immediate ceasefire, provide urgent humanitarian aid and protect refugees and civilians."
Ghairat sent another tweet later in the day, saying he'd been misquoted, saying, "I haven't said that we will never allow women to attend universities or go to work, I meant that until we create an Islamic environment, women will have to stay at home." The university also stated the tweets were fake and that he does not have a social media account.
Before he was put into his current position, Ghairat referred to the country's schools as "centers for prostitution," according to The Times. "Instead of producing scientific and religious knowledge, the centers were turned into centers of prostitution and moral corruption," he wrote in a tweet that has also since been deleted.
Ghairat's stance seems to be in direct opposition to a statement made earlier this month by the newly appointed Higher Education Minister Abdul Baqi Haqqani, who said would be allowed to study at Afghan universities, given they are separated by gender.