How One Woman Is Using Her Tattoo To Educate Others About Heart Disease
by Christine Burke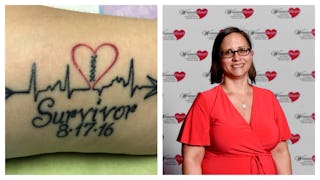 Amy Josar
As I settled into my aisle seat on an early morning flight, a young woman politely gestured to the window seat next to me. "That's me," she said. I stood up and she, too, settled into her seat. As we both checked our phones and tightened our seat belts, no pleasantries were exchanged. We sat in companionable silence, both of us up way too early to catch a flight to Chicago.
I had no way of knowing that, by the end of the flight, our chance meeting would change my life.
As we made our final approach into O'Hare, I noticed a tattoo on her left forearm. "Survivor, 8-17-16" was emblazoned on her arm, with a rendering of an electrocardiogram reading. My eyes did a double-take because the woman sitting next to me was the picture of health. She was bright eyed, healthy, and young. Younger than I am, even.
As a former cardiac intensive care nurse, I knew instantly what the EKG reading meant.
The woman sitting next to me had survived a heart attack.
She was 37 years old with no risk factors when she suffered a massive heart attack.
Because my nurse brain often prevents me from discreetly noticing such things and not saying something, I pointed to her tattoo and said, "You've had a heart attack?"
She smiled and simply said, "Yes. And I'm on my way to a WomenHeart conference in Minnesota so that I can learn how to help other women like me."
And it was then that I realized that Amy Josar, the woman sitting next to me, is pretty badass.
Amy was just 37 when she experienced "every classic symptom of a heart attack possible" as she puts it. On a Saturday afternoon in August 2016, she began to notice chest pressure when she stepped out into the hot summer sun.
By midweek, she was experiencing nausea, vomiting, and diarrhea. She had heartburn. Neck pain and pain between her shoulder blades bothered her all weekend, and though she had a feeling of impending doom (another common side effect of heart attack in women), it never once occurred to her that she might be having a heart attack.
Plus, she says, "I didn't want to inconvenience anyone by asking them to take me to the hospital." But on Wednesday morning, when she woke up and realized she couldn't even pick up her small dog, she knew something was very wrong.
She was right.
Amy suffered a heart attack from a 100% blockage of her "widow maker" coronary artery: The main artery that supplies blood to the majority of her heart was completely blocked.
She was immediately prepped for open heart surgery, and her surgeons performed the coronary artery bypass surgery that saved her life.
"I should be dead today," she says. "But I know now that I survived my heart attack because I needed to be here to help other women."
According to the American Heart Association, heart disease is the number one killer of women. Signs and symptoms of a heart attack in women include:
1. Uncomfortable pressure, squeezing, fullness, or pain in the center of your chest. It lasts more than a few minutes, or goes away and comes back.
2. Pain or discomfort in one or both arms, the back, neck, jaw, or stomach.
3. Shortness of breath with or without chest discomfort.
4. Other signs such as breaking out in a cold sweat, nausea, or lightheadedness.
5. As with men, women's most common heart attack symptom is chest pain or discomfort. But women are somewhat more likely than men to experience some of the other common symptoms, particularly shortness of breath, nausea/vomiting, and back or jaw pain.
After her immediate recovery period, Amy entered a cardiac rehabilitation program to get her back on her feet. She tells Scary Mommy that she was the youngest person at the rehab gym and that people thought she was the physical therapist when she'd show up for her appointments. Although she found the support of the rehab staff to be invaluable, Amy needed more than physical support.
"Everyone focuses on the physical recovery of a heart attack. But there's very little done to support a patient mentally and emotionally after a heart attack. I was clinically dead, and there are emotions that are hard to process," she recalls.
After searching the internet for support groups, Amy found WomenHeart, the only patient-centered organization that serves women with or at risk for heart disease.
Amy found a local WomenHeart chapter and attended her first meeting a month after her devastating heart attack. There, she found a support group of about 40 women, ranging in ages from 37–70, all living with various forms of cardiac disease. "We have women who have had valve replacements, heart failure, and cardiomyopathy," she says. The women meet to support each other through the emotional load that comes with the effects of cardiac disease in everyday life.
And that's where Amy was put in touch with a "Sister Match," a program where a woman is paired with another woman with a similar cardiac disease or symptom. Amy's Sister Match is a woman from North Dakota named Rayette Brown, an 18-year survivor of a heart attack just like hers. "Rayette became an incredible support for me over this last year," Amy tells Scary Mommy.
When Amy attended the WomenHeart conference in Minnesota this October, she got to meet Rayette in person. "It was surreal," Amy reminisces. Amy has since completed the training to become a WomenHeart Champion, just like Rayette was for her. "If I can help just one woman know the signs and symptoms of heart attack, it will make all of this worth it," she says.
Today, a year later, Amy is "not just surviving, but thriving" to use her words. She is excited about her new role as not only a Sister Match but also as a Support Network Coordinator for WomenHeart. In that role, she will be able to further expand on her mission to educate women about the signs of a heart attack, the signs she didn't know about until her heart attack occurred.
And her tattoo, a gift to herself on the one-year anniversary of her cardiac event, serves as a conversation piece, a way for her to open dialogue with women about the risks of heart disease.
"Women dismiss our symptoms because we are the caregivers. But if we don't take care of ourselves, we can't take care of others," she stresses.