'Will & Grace,' Oreo Cadbury Creme Eggs, And More Badass Fuel For 2017
by Christine Organ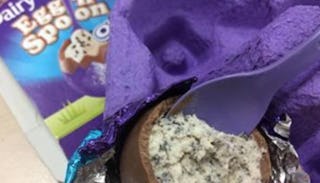 Image via Time / Facebook
I hate to be a Debbie Downer, but last year felt like a giant kick in the crotch for a lot of us. It was exhausting, demoralizing, and my voice hurts from shouting FTS every time I watch the news. I don't know about you, but I'm determined to make 2017 as kick-ass as possible. 2016 might have been the year that beat us down, but 2017 will be the year we rise up, dammit. And I refuse to let anyone steal my joy for one more minute.
Staying positive, keeping our mojo groovin', and putting our badassery to the test calls for some seriously fabulous things. Cat videos just won't get the job done, folks. We need all the positive reinforcement we can get.
So if you're in need of some happy juju and feel-good vibes to get you jazzed, stoked, and revved the hell up for kicking ass in 2017, here are some fabulously awesome things to get you excited about 2017.
Women will be kicking ass and taking names.
At the beginning of January, 15 new women were sworn into Congress. On January 21, millions of women across the country will participate in the Women's March on Washington and sister marches. Basically 2017 is the year we stand up, take charge, and carry on with our awesomeness in ways big and small.
S'mores Girl Scout Cookies and Girl Scout Cookie Cereal? YES, PLEASE!
As if Thin Mints and Samoas weren't good enough, Girl Scouts are now selling s'mores cookies. Yes, S'MORES. Just take all of our money, please. Even better, we don't have to wait for dessert to binge-eat our cookies because now Girl Scout Cookie Cereal is right there in the breakfast aisle. Halle-freaking-lujah.
Oreo Cadbury Creme Eggs are a thing.
Cadbury Creme Eggs taste like a liquid sugar hug. Oreos taste a like pat on the back. Put them together and you have liquid sugar-laced optimism wrapped in a shell of chocolate. Look for them on store shelves in mid-February.
The Golden Girls are coming to Hulu.
Starting on February 13, we'll be able to watch all seven seasons of Golden Girls for free on Hulu. So grab a slice of cheesecake — or the whole damn cake — and settle in for an evening with Blanche, Sophia, Dorothy, and Rose. Because the world feels a little less hateful and a whole lot sunnier after watching these fabulous bitches who are the epitome of #lifegoals.
Music, Music, and More Music!
Whether you like to rock out to U2, you're a Gen X '80s kid at heart, or you get all swoony over Justin Timberlake, 2017 has got you covered. U2 is celebrating the 30th anniversary of its Joshua Tree album with a cross-country tour, and 1.1 million tickets were sold in the first 24 hours. Paula Abdul, Boyz II Men, and New Kids on the Block are touring together for triple your Gen X fun. And rumor has it we might be able to bring our sexy back with a Justin Timberlake tour or new album, but truthfully anything he does will bring the sexy.
"Stranger Things" Will Be Back!
What do you get when combine the childhood adventures of Stand By Me with the paranormal plot lines of The X-Files and the cuteness of E.T.? Netflix's new show Stranger Things, that's what. In case you haven't seen this AH-MAZING show yet, clear your schedule now and cancel everything because you need to binge-watch the first season ASAP. The show officially got the green light for season two last year, and although there's no official release date yet, sources say the next nine episodes should drop sometime around summer 2017.
"Will & Grace" returns to network television.
This is not a drill. NBC recently confirmed it will air a 10-episode season reuniting Debra Messing, Eric McCormack, Sean Hayes, and Megan Mullally. We'll have to wait until fall to see our favorite friends, but Anastasia Beaverhausen and I are stocking up on vodka martinis in the meantime.
The Force will be with us.
We may have lost Carrie Fisher in 2016, but in 2017, she'll be back with all of her kick-ass glory as General Organa in Star Wars Episode VIII, which will be released in December 2017. Laura Dern also joins Daisy Ridley, who plays Rey, to round out a powerful group of women. The Force will definitely be strong with this one.
So if the news has got you down or the internet cesspool makes you want to stick a fork in someone's eye, just pour yourself a bowl of Girl Scout Cookie cereal, pop open an Oreo Cadbury Egg, and settle in for time on the lanai with the Golden Girls. Because 2017 is the year of women kicking ass and taking names, and we've got some seriously awesome badass fuel right here.