How Productive at Work Is a Woman Who Gave Birth Three Weeks Ago?
by Leigh Anderson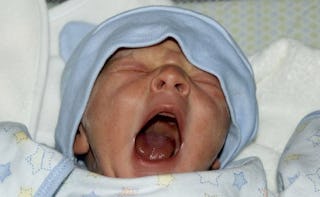 Her husband did what he could before he left each morning, prepping the fridge with ready-to-eat lunches and snacks. Other parents in the neighborhood stopped by to help, but the experience overall could be characterized as "brutal." My friend said her husband would come home from work and find her huddled and weeping in the nursing chair. She skipped her follow-up OB appointments for the C-section because she couldn't manage the subway with two kids. "I don't really even remember that time," she says. Her only goal was to keep everyone alive.
In the State of the Union address last night, the president asked Congress to prioritize paid parental leave for working families. He also said he will give federal employees six weeks of paid leave after the birth of a child. In late 2013, Representative Rosa DeLauro and Senator Kirsten Gillibrand of New York introduced legislation that would allow workers to take a partial paid leave of up to 12 weeks, funded by a payroll tax on both employers and employees. These are small steps in the right direction—the right direction being, say, six months to a year of paid leave for both parents—but small steps are better than no steps at all.
Too many parents have to choose between caring for a newborn and their family's financial security. I spoke to Elizabeth, a pediatric resident in Brooklyn, who's expecting her second baby in April. She expects to take six weeks off after the delivery, and notes that that's generous compared to women in other departments: "The dermatology residents are really discouraged from taking more than four weeks," she said. "I know one woman who had twins via C-section and she took eight weeks, but that was the most I've heard of." The leave is unpaid, and Elizabeth feels that more than six weeks is financially untenable. She says ideally she'd like to take more like six months, but she has to keep paying the babysitter (for her older child) during her unpaid leave and she couldn't sustain that for more than six weeks.
Another woman, Alexis, a lawyer with the federal government, described her situation in an email: "With our second kid, I had no paid leave. I spent the year before he was born saving every second of annual leave and vacation time I earned (which meant never being out sick, even when I was sick) so I could eke out eight weeks paid leave between sick leave and earned vacation time. I took 11 weeks off, three of which were unpaid, which was all we could afford.
"[My husband] got no paid leave other than his vacation time.
"This is obviously unacceptable. Eleven weeks is way too early [to be separated from your baby] and taking even three unpaid weeks was a major financial hit. Plus, the year I spent working with not a single break also took its toll."
I wondered how productive I'd be after returning to work after 11 weeks; Alexis notes that she spent about two hours a day in the daycare with her son during the day, nursing him—which she frames as a positive. Which it is, all things considered. But she might have been even more productive at work if she'd been able to take adequate time off with her son. Decent paid maternity leave generally means that more women return to work and are more productive when they're there.
(This isn't taking into account women who simply don't go back to work because they can't find affordable, reliable child care.)
Only 12 percent of workers have access to paid leave to care for a family member. Three states, California, Rhode Island, and New Jersey, have state funds for paid family leave. Workers in companies with more than 50 employees are eligible for FMLA leave, which allows workers 12 weeks unpaid leave, but FMLA is a moot point if you can't afford to skip your paycheck.
Courtney, a graduate student with a teaching load at Syracuse University, emailed me that she delivered over Christmas break and went back to teaching in January. "I could have taken a whole semester," she said, but again—unpaid. So she logged hours at her desk from 9 p.m. to 2 a.m. and fulfilled her teaching requirements, but did her best to stay off committees—"so more on three-quarter time." How productive were you? I asked. "I was probably weird and tired most of the time … it would have been nicer to take a real break."
Business groups have strenuously objected to offering paid parental leave, saying it would be too expensive. But California's policy has shown that it has positive or neutral effects on business and "better economic, social, and health outcomes for workers and their families."
Also, forcing women back on the commuter train three weeks post partum makes me wonder: How productive do you think a woman is who's back at work within a month of delivering a baby? Cassie, an executive at a small television company who's due with her first child in May, is planning to use her two weeks of maternity leave, one week of vacation, and three weeks of unpaid leave. I asked her how productive she'd be if she only took the three paid weeks and she said: "Ha! I feel like I'd be shell-shocked at three weeks, and would completely regret not having taken the time with the baby." But her employee handbook states that if she doesn't return to work after her doctor deems her ready, she's willingly terminating her employment.
This has colored her feelings about the company: "I feel like it's ultimately going to affect how long I stay here. I don't plan on having another child, but I feel that [the company] being inflexible and less than generous with maternity leave has left me feeling like my values and this company's values aren't aligned."
This article was originally published on