14 Women Of Color You Need To Follow On Instagram ASAP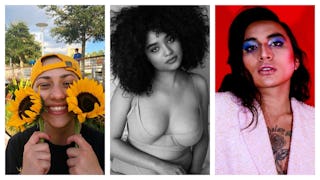 Instagram: Emma Gonzalez/ Diana Veras /Cielo Oscuro/
Women and female-identifying folk are badass creatures. We have a lot to say and work hard. Still, there are many moments we're left feeling unappreciated. It's frustrating existing in men's shadows. And if you're a woman of color that feeling is often multiplied several times.
We have to acknowledge the experience of womanhood comes with a lot of variety– that spectrum of experiences is greatly impacted by race, class, and gender identity. Women of color deserve their own acknowledgment for dealing with the sexism, racism, and the inexplicable experience of dealing with the unique cocktail that comes with dealing with both. But it's more than that. Size, ability status, and several other factors impact this experience.
Check out this list for 14 women of color with all kinds of identity factors that make their experiences unique. You'll thank me later.
https://www.instagram.com/p/BtTj6Voh0rB/?utm_source=ig_web_copy_link
Diana first got on everyone's radar because she provided an excellent visualization of the slow, but happening, increase of diversity in the modeling industry. But she stayed in our sights because she's excellent in the art of "clapback." After a hater commented on one of her pictures and called her "fat," she responded with "And? The f*ck lmaoooo." Diana reminds the haters that beauty comes in a lot of different sizes and ain't nobody got time for fat-phobia.
https://www.instagram.com/p/Br_SGn9Huya/?utm_source=ig_web_copy_link
Kat Blaque is a trans rights activist with a lot to say. The level of "living my life like it's goldenness" on her page is more than noteworthy. Expect thought-provoking content that challenges everything you thought you knew. You can learn about anything and everything related to gender, race, and all the topics in between. She's a pretty big deal.
Rachel Wiley's IG is great for those who want to learn more about feminism and body positivity. As an author and a poet, she doesn't shy away from addressing current pop culture topics or what we're all checking out on Twitter. Her profile is dedicated to shedding light on a range of identity politics through the lens of a biracial and queer-identifying woman.
Elsie Tellier is a latinx warrior with cystic fibrosis. She hopes to increase the representation of folks with disabilities. Elsie does that while letting the rest of us know having a disability doesn't slow her down or stop her from putting the rest of us to shame by being fashionable as hell. Um, did I mention she also attends Harvard?!
Emma Gonzalez is the student turned gun control activist following the horrific Stoneman Douglas High School shooting that occurred in Parkland, Florida. Since then, she's founded March for Our Lives, a nonprofit, nonpartisan organization pushing for stricter gun laws and registering young voters, and become one of Variety's five 2018 Power of Women honorees. She's doing big thangs, we've gotta make sure we're watching.
https://www.instagram.com/p/BmMOX8sFLtq/?utm_source=ig_web_copy_link
Cielo Oscuro is a nonbinary, Latinx, trans femme mami living in South Central. Feel free to throw her a few dollars in support her transition. One thing you'll notice — she really enjoys the Virgin Mary aesthetic.
We don't spend nearly enough time giving South Asian women the spotlight. Riya Hamid is an artist, model, and writer whose work "explores the nuances of brown femininity and the dynamics of class + haziness of identity." She also discusses religion, fashion and her experiences of life traveling between Brooklyn and Berlin. This page is filled with a breathtaking range of colors with a dash of Bangladeshian flair.
Tiffany Yu is an inclusion and empowerment advocate on a mission to knock down the host of barriers that limit access for the disability community. Her list of accomplishments is long. Tiffany has been selected as one of the 100 most influential Asian Americans of 2017, one of "100 visionary leaders," and a "women of influence" honoree! Her IG chronicles her activism and her adventures.
https://www.instagram.com/p/Bs-h4lJnjt6/?utm_source=ig_web_copy_link
Who among us hasn't considered switching over to the vegan/vegetarian lifestyle? Pop culture makes it look so glamorous (and great for weight loss), but without a plan, it's damn near impossible. Enter Davina Da Vegan! Her page is filled with food photos and recipes, a gift to make the plant-based lifestyles look amazing.
Jessamyn Stanley wants to teach us that yoga has something to offer all of us regardless of size. She's a light-filled, plus-sized Black woman who is making yoga a crapload more accessible to those of us who are "othered in society." Her page teaches us about body positivity and self-love. It's a great place to stay up to date with her events too.
https://www.instagram.com/p/BsdmKY1gMlZ/?utm_source=ig_web_copy_link
P.S. Kaguya's account is shaking up stereotypes of beauty and the Asian identity. A self-proclaimed body advocate, Kaguya extends a big middle finger to the folks that say all Asian women have to be skinny. She does it all- singer/songwriter, model, artist, and sexy af human being.
https://www.instagram.com/p/BtPfohXHM1z/?utm_source=ig_web_copy_link
We need to be more comfortable talking about reproductive issues — namely, our periods. Menstrual activist Nadya Okamoto hopes to inspire that change. Okamoto's the Founder and Executive Director of PERIOD, an organization she founded at the age of 16! Her accomplishments don't stop there. The 20-year-old Harvard student, speaker, and activist is also the author of Period Power: A Manifesto for the Menstrual Movement.
Isis King might look familiar to you. This badass chick was the first transwoman to compete on America's Next Top Model. In addition to being absolutely gorgeous, she's an actress as well as a fashion designer. Her presence is an act of resistance that reminds the masses that trans folks are here and capable despite fools who think otherwise.
Rachel Cargle is a writer, activist, and lecturer who specializes in the intersection of race and womanhood. Her site provides some great educational anti-racism tools. And her IG gives an awesome intro to what you can learn from her.
This article was originally published on