These Women Prevented A Date Rape, And Their Viral Story Is Eye-Opening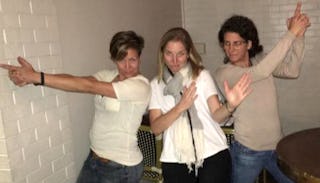 Three amazing women stepped in to prevent a date rape at a California restaurant
If you were the potential victim of a crime, you'd hope someone would step in to help, right? Well, that's exactly what three heroic women did when they were at a restaurant and saw a stranger attempt to drug another woman's drink. The story of how they saved the day is quickly going viral.
Sonia Ulrich writes on Facebook that she was enjoying happy hour at Fig, a restaurant inside the Fairmont Hotel in Santa Monica, when she and her companions, Monica Kenyon and Marla Saltzer, spotted something fucking horrifying: a man dumping a vial into his date's glass.
"He pulled her glass toward him, kind of awkwardly, then he took out a little black vial," Ulrich explained in her post. "He opened it up and dropped something in. Then he tried to play it cool, like checking his phone and hiding the vial in his hand and then trying to bring it back down slyly."
Thankfully, these women weren't afraid to get involved. "After a few 'Oh god. What do we do's,' I got up to find her in the bathroom to tell her," wrote Ulrich. "After feeling awkward hanging out by the sinks in the bathroom til she was done, I approached. 'Hey! Um, this is kind of weird, but, uh, we saw the guy you were with put something in your drink.'"
The woman immediately freaked out, just like any of us would. Ulrich asked how long she and the man had known each other, and to her shock, the woman responded that he was actually "one of her best friends." While they were talking, Kenyon alerted their server, who then notified the manager. The manager got security on the case while he stopped by the table in question to check things out.
"The poor woman had to sit through 40 more minutes, sitting across from 'one of her best friends' knowing that he was trying to drug her," wrote Ulrich. "Marla noticed him several times chinking his glass to hers to get her to drink. She played it cool. Mostly, I believed, just stunned."
Luckily, this guy got exactly what he deserved. The servers delayed him when he asked for the bill, purposely holding him up until the police arrived. Wrote Ulrich, "The head of security… said that because we notified them immediately, they were able to go back and review the footage from the security camera. They got him on tape. They had proof of him drugging this girl. They took the glass away as evidence."
Buzzfeed News reports the suspect has been charged with administering a drug with the intent to commit a felony and intent to commit rape. He'll face arraignment in a Los Angeles court next week. Meanwhile, Ulrich said not only was it incredible to take this creep down, but also to hear from "at least 10" other customers who thanked her and shared their own stories of people they knew who'd been victims of this kind of attack. "Some Heroes don't wear capes," one told her. "Thank you. It happened to me. Thank you."
According to the Rape, Abuse, and Incest National Network, there are about 293,000 sexual assaults each year, and four out of five are committed by someone known to the victim. What this story unfortunately makes us realize is, it doesn't matter if it's a stranger or someone you've known for 25 years — predators come in all shapes and sizes. What this man did is, sadly, all too common, and Ulrich said she wanted to share the events on Facebook to encourage more people to speak up when they see something going on.
"Thank you in advance to everyone who sees this and shares this and reminds each other that yes, you SHOULD say something," she wrote. "Even if it's awkward or weird or just uncertain if anything can be done. Know that you did something. And that it helped."
Way to be badasses, Ladies.
This article was originally published on