Four Women Face Prison Time For Leaving Migrants Food And Water In Desert
by Cassandra Stone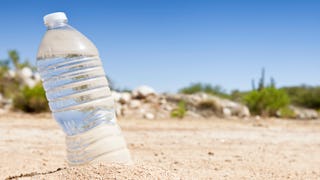 Image via powerofforever/Getty
The volunteers face prison time and fines for trying to aid migrants with food, water, and supplies
Four women working as aid volunteers are now facing possible prison time for leaving food and water for migrants in an Arizona national wildlife refuge. The women have been convicted on charges of entering a national wildlife refuge without a permit and abandonment of property.
The women, Natalie Hoffman, Oona Holcomb, Madeline Huse, and Zaachila Orozco, are part of the No More Deaths ministry, which operates from the Unitarian Universalist Church of Tucson. They could face up to six months in prison and fines up to $500 during sentencing.
The four women were initially caught and apprehended in August of 2017. They had left water jugs, beans, and other supplies for migrants in the refuge. The Cabeza Prieta National Wildlife refuge shares a 50-mile border with Mexico. The No More Deaths ministry claims 155 migrants have died in the refuge since 2001, and that it's a particularly dangerous trek that many migrants make.
The judge, Magistrate Bernardo P. Velasco, ruled the conviction. Hoffman faces an additional charge of operating a motor vehicle in a wilderness area. He wrote in his verdict that leaving food and water erodes "the national decision to maintain the refuge in its pristine nature."
According to CNN, the Cabeza Prieta wildlife refuge is Arizona's largest wilderness area. It spans over 800,00 acres of "isolated and rugged landscape." Back in 2001, an investigation was launched by both the U.S. and Mexican authorities after approximately 14 migrants died in the refuge during a single incident after crossing the border. The results of that investigation surmised the migrants were abandoned in the desert by "people smugglers."
It was noted in the verdict that the defendants were not aware they could potentially face jail time if caught. "Each one acted on the mistaken belief that the worst that could happen was that they could be banned, debarred, or fined," Velasco writes. "No one in charge of No More Deaths ever informed them that their conduct could be prosecuted as a criminal offense."
Though this particular incident unfolded in the summer of 2017, it's impossible not to think of the further horrors we've seen migrants experience since then. It's also impossible to feel like these women are true criminals, given the fact that the U.S. government is responsible for migrant children dying in cages from dehydration.
The Washington Post reports that large groups travel to borders in Texas, Arizona and New Mexico and throughout their trip, they often spend days without any food or water. Which is likely part of the reason why the No More Deaths ministry say Velasco's verdict is part of a larger crisis of conscience in the U.S.
"This verdict challenges not only No More Deaths volunteers, but people of conscience throughout the country," says Catherine Gaffney, a No More Deaths volunteer. "If giving water to someone dying of thirst is illegal, what humanity is left in the law of this country?"