Working Moms Share Photos Of The Places They're Forced To Pump
by Maria Guido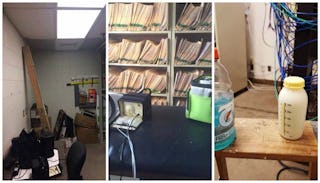 Working moms share photos of their "lactation rooms"
Jessica Shortall is a writer, advocate for working parents, and the author of Work. Pump. Repeat: The New Mom's Survival Guide to Breastfeeding and Going Back to Work. She asked mothers on her Facebook page, "Where do you pump?" They submitted photos, and the results — as you can imagine — are pretty depressing.
"New parents are so voiceless, in part because they're so exhausted…and they're financially vulnerable. They really can't afford to lose their jobs now that they have a baby to provide for," Shortall tells Scary Mommy. She amassed a bunch of photos working parents provided her in an album called "Crappy Lactation Rooms." They really tell a story about the struggles of working parents.
"This is where a woman at a Fortune 500 company pumps."
"This is a server & storage room that is super loud, has only an accordion door (no lock), and is always 80 degrees."
"Many of these lactation spaces meet the letter of the law… but they're cramped, often dirty, and not very conducive to letdown of milk," Shortall writes for Elle. "Some of these pictures represent actual violations of the law: non-private, non-locking spaces, sometimes in bathrooms. It's a testament to the will and ingenuity of working parents—and to battery packs, nursing covers, shower curtains, and other hacks—that we make these spaces work."
It's amazing what hoops a working parent has to jump through to make breastfeeding successful. In addition to her book, Shortall regularly writes about how to improve the workplace for parents and the importance of parental leave. "I started writing for anyone who would let me on the topic. I felt like there wasn't a voice that I needed myself – something that got the dark humor of all of it, and also a voice that helped me, in a very lonely and isolating activity, feel like I wasn't alone in this, no matter how it turned out," Shortall tells Scary Mommy. "I suffered from terrible postpartum anxiety after my son was born, connected directly to going back to work and the felt pressure to exclusively breastfeed, so it was very personal for me."
It's not uncommon to hear about the shame some women face for breastfeeding in public, but for women returning to work who want to continue to breastfeed, pumping is essential and as these photos illustrate — an afterthought for most companies. Who wants to hide in a dirty storage closet to pump? There's no reason why a clean, private place should be so hard to come by, especially for larger companies.
"Some lucky—but far too few—new, working mothers have employers that go the extra mile when it comes to lactation rooms."
Clearly.
You can see Shortall's TED talk on the need for paid family leave, here.
This article was originally published on