Women Wear 'Handmaid's Tale' Robes To Senate To Protest Anti-Abortion Legislation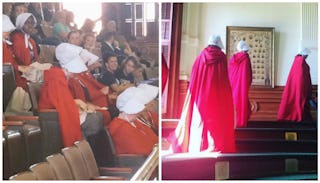 Images via Twitter/Whole Women's Health/nanarchist
Women Wear 'Handmaid's Tale' Robes In Protest of Anti-Abortion Bills
Texas Senate members met on Monday to discuss several bills that will have a severe impact on women's reproductive freedoms if they pass into law. Among the bills were S.B. 25 (remember this bullshit?) which would protect doctors who lie to their pregnant parents about potential birth defects in order to prevent the mother from seeking an abortion. Also up for discussion was H.B 415, a bill that would make illegal a common and safe procedure used during second-trimester abortions. Conservatives are calling this the "dismemberment abortion bill," because of course they are.
The "dismemberment abortion" bill passed the Senate and now heads to the House for a vote and S.B. 25 is due to go to vote later this week. While the progress of these bills is sadly no surprise, one group of women decided they weren't going to just stand by and let it happen without comment. About a dozen women came to the session dressed in red robes and white hoods, the classic costume from Margret Atwood's The Handmaid's Tale, because that's exactly how these laws make us feel.
Atwood's 1985 classic has seen a spike in sales since Trump became president, and it's not hard to see why. For those who don't remember it from Freshman Lit, The Handmaid's Tale follows the story of a woman called Offred (which stands for "Of Fred", because women aren't important enough to warrant their own names). In a world where women are inferior to men and infertility among women is widespread, she's a handmaid — a lower class of women who still have their fertility that aren't allowed to read or write. The handmaids are assigned to powerful families for the sole purpose of being raped by the husband in the presence of the wife and bearing a child for the wealthy couple to claim as their own. The novel is supposed to be dystopian fiction. But here in 2017, as more and more laws are put into place with restrictions on what women can do with their own bodies, every day it feels like the book is getting one shelf closer to the non-fiction section.
The protest was organized by NARAL Pro-Choice Texas with assistance from the Texas Equal Access Fund. Nan Little Kirkpatrick, Executive Director of TEA Fund, tells Scary Mommy the idea for renting the costumes and wearing them to the Senate came after seeing women wearing them at SXSW to promote the upcoming HULU series based on the book. "It's just a natural fit because that book is a statement on reproductive oppression, which Texas continues to amp up with every passing session," she says.
Once the Handmaids arrived at the Senate Twitter lit up with news of the protest under the hashtag #FightBackTX. Kirkpatrick explains how the signs they brought with them had special significance. "The signs were made of cloth and each named an anti-abortion restriction passed in Texas along with the year. The timeline ran 1989 to last session and showed the history of the reproductive oppression in Texas."
The hooded heroes were quickly escorted out of room once they tried to display posters and banners. Since signs aren't allowed on the floor they expected to be asked to leave, but were surprised by the aggression the received from the Sergeant-at-Arms and several DPS troopers that stood watch around them. "The very moment that we stood up the Sergeant-at-Arms yanked my sign from my hands and said, 'Sit down!' in an aggressive threatening tone," says Kirkpatrick. "About half of our group had our cloth signs ripped from our hands and several were physically yanked by those tasked with watching the Gallery."
To be clear, the banners weren't insulting or offensive. They had relevant objections to things Texas lawmakers have imposed on women like, "Medically unnecessary rules for clinics," "24 Hour waiting period" and "Forced sonograms." Apparently the truth was just too much for the Texas Senate to handle.
As amazing as this display of peaceful protest is, as much as my heartbeat quickens by the sight of women banning together and refusing to allow their rights to be taken away without objection, it's also awful.
To think that our nation is in a situation where the plotline from a dystopian novel is actually feasible as reality is both disgusting and terrifying. Dressing like a character from The Handmaid's Tale and walking into the Texas Senate is a brave, admirable move, but it's a move that should have never had to happen in the first place.
Our pink hats are off to the women who braved the Texas Senate Floor wearing this homage to Atwood's work.