Women Won Majority Of Team USA's Medals And We're Here For It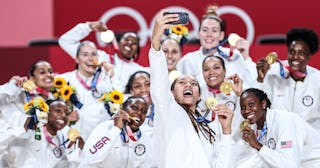 Pan Yulong/Xinhua/Getty
The female athletes on Team USA have earned about 60 percent of the total 113 medals
As spectators catch their breath following the Tokyo Olympics, commentators did the math and came to a totally dope conclusion: female athletes won the majority of Team USA's medals. People reports female athletes earned 113 medals spanning events including fencing, gymnastics, shooting, swimming, track and field, and more.
The magazine pointed out Australia, Italy, and Japan each have earned 46, 40, and 58 medals respectively. So basically, the USA women's athletes could be their own top-ranking country when it comes to medals won.
The standout stars of the Olympics have overwhelmingly been women: Simone Biles, Naomi Osaka, Megan Rapinoe, Allyson Felix…
We could continue, but we think we've made our point: women kicked ass this year.
Okay, one more: the US women's volleyball team won their first gold medal this year.
"I think it was awesome. I think the women showed up," Allyson Felix (herself the most decorated female track and field athlete of all time) told PEOPLE after winning her record-breaking 11th track and field medal.
"I think we've been showing up on the track [and] off the track in all of the ways," Felix said. "So to me, I loved it. I love seeing it."
"Sitting back and watching each woman perform, it was inspiring — it was like, okay, who's up next then? Kind of like a buzz," she told the mag. "So it was really, really cool."
It all began back in 2008, at the Beijing Games, as women began to win more medals than men.
A member of the U.S. Olympic and Paralympic Committee's board of directors told USA Today "one must acknowledge how almost 50 years ago, in an effort to elevate women in our society, Title IX empowered generations of women to compete, to lead, to win and to inspire."
Swimmer Katie Ledecky agreed. "Title IX has had a huge impact on women participating in sports and the evidence of that is clear with the results of women at the Tokyo Olympics," she told the newspaper.
UN Women tweeted in support of female athletes worldwide.
"For progress to continue, we're going to have to continue to advocate for equality for female sports," Ledecky continued, "[and] not be afraid to speak out, to pursue legal and political remedies and have a seat in corporate boardrooms, and not be timid about participating in those processes that will continue to bring change."