Here Are All The Books You Want Your Kids To Read For Women's History Month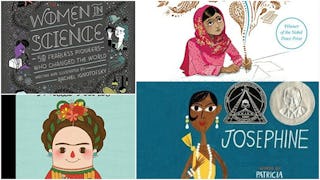 These books teach women's history in the most fun way possible
Women's History Month is here! For all of March, we're celebrating women and the amazing contributions they make, both in history and today. And what better way is there to celebrate than by teaching your kids about all the incredible women they should be looking up to?
If you're looking for a great way to let your kids be inspired by amazing women, look no further than these books. They're all kid-approved, and they all tell the stories of women who will be your kids' new favorite role models.
"As a child in Pakistan, Malala made a wish for a magic pencil. She would use it to make everyone happy, to erase the smell of garbage from her city, to sleep an extra hour in the morning. But as she grew older, Malala saw that there were more important things to wish for. She saw a world that needed fixing. And even if she never found a magic pencil, Malala realized that she could still work hard every day to make her wishes come true."
She Persisted: 13 American Women Who Changed the World
"Throughout American history, there have always been women who have spoken out for what's right, even when they have to fight to be heard. In early 2017, Senator Elizabeth Warren's refusal to be silenced in the Senate inspired a spontaneous celebration of women who persevered in the face of adversity. In this book, Chelsea Clinton celebrates thirteen American women who helped shape our country through their tenacity, sometimes through speaking out, sometimes by staying seated, sometimes by captivating an audience. They all certainly persisted."
Little Leaders: Bold Women in Black History
"Featuring forty trailblazing black women in American history, Little Leaders educates and inspires as it relates true stories of breaking boundaries and achieving beyond expectations. Illuminating text paired with irresistible illustrations bring to life both iconic and lesser-known female figures of Black history such as abolitionist Sojourner Truth, pilot Bessie Coleman, chemist Alice Ball, politician Shirley Chisholm, mathematician Katherine Johnson, poet Maya Angelou, and filmmaker Julie Dash."
I Dissent: Ruth Bader Ginsburg Makes Her Mark
"Get to know celebrated Supreme Court justice Ruth Bader Ginsburg—in the first picture book about her life—as she proves that disagreeing does not make you disagreeable!"
Women in Science: 50 Fearless Pioneers Who Changed the World
"Women in Science celebrates the achievements of the intrepid women who have paved the way for the next generation of female engineers, biologists, mathematicians, doctors, astronauts, physicists, and more!"
Josephine: The Dazzling Life of Josephine Baker
"In exuberant verse and stirring pictures, Patricia Hruby Powell and Christian Robinson create an extraordinary portrait for young people of the passionate performer and civil rights advocate Josephine Baker, the woman who worked her way from the slums of St. Louis to the grandest stages in the world. Meticulously researched by both author and artist, Josephine's powerful story of struggle and triumph is an inspiration and a spectacle, just like the legend herself."
Ada's Ideas: The Story of Ada Lovelace, the World's First Computer Programmer
"Ada Lovelace (1815–1852) was the daughter of Lord Byron, a poet, and Anna Isabella Milbanke, a mathematician. Her parents separated when she was young, and her mother insisted on a logic-focused education, rejecting Byron's "mad" love of poetry. But Ada remained fascinated with her father and considered mathematics "poetical science." Via her friendship with inventor Charles Babbage, she became involved in "programming" his Analytical Engine, a precursor to the computer, thus becoming the world's first computer programmer. This picture book biography of Ada Lovelace is a compelling portrait of a woman who saw the potential for numbers to make art."
Good Night Stories for Rebel Girls
"Good Night Stories for Rebel Girls" is a children's book packed with 100 BEDTIME STORIES about the life of 100 EXTRAORDINARY WOMEN from the past and the present, illustrated by 60 FEMALE ARTISTS from all over the world."
Frida Kahlo (Little People, Big Dreams)
"Frida began painting from her bedside and produced over 140 works, culminating in a solo exhibition in America. This inspiring and informative little biography comes with extra facts about Frida's life at the back."
Amazon makes all of these sound amazing TBH, but don't take their word for it. Try some out and get your kids learning about these incredible women.
This article was originally published on