The Women's March Is Back And Here's What You Need To Know
by Christina Marfice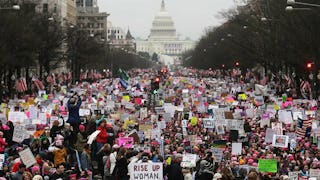 Mario Tama/Getty Images
The largest protest in American history is back
Nearly a year ago, almost 5 million women gathered worldwide to stand together for reproductive rights, equal pay, safety for women in the workplace and more. They stood against racism, sexism, sexual assault and harassment. They stood against Donald Trump, the newly inaugurated president, and his policies that were racist, anti-LGBT and anti-women.
The flagship march took place in Washington, D.C., where around 500,000 people gathered. Millions more organized in cities across the U.S. and around the world, making the inaugural Women's March the largest single-day protest in American history. And organizers say that was only the beginning.
"This year we've rallied, we've marched, we've held town halls, we've huddled, we've written postcards, and we've run for office in bigger numbers than before," Bob Bland, a co-organizer of last year's march, told the Huffington Post. "All of it was culminating in this moment, which is the anniversary of the Women's March, where we convert our collective power that we all felt last year on January 21st into a groundswell of political power."
This year's Women's March will also be held on Jan. 21, and Las Vegas has been chosen to hold the flagship event, even though the largest crowds are expected in New York City and Washington, D.C. The theme for 2018's march is "Power to the Polls," and Vegas was chosen to host it because Nevada is a key swing state in the midterm elections this year. Organizers want to focus this year's event on getting more women to vote in the midterms and beyond.
"The whole point of the women's march is for women to take agency over their own lives," Bland explained. "We are the leaders we've been waiting for. Now's the time to step up."
If you want to participate in Women's March events this year, here's everything you need to know.
The Las Vegas event will begin at 10 a.m. at Sam Boyd Stadium, with a performance by singer Faith Evans and speakers including Melissa Harris-Perry, actress Marisa Tomei, and activists from Planned Parenthood and Black Lives Matter. The entire event will be live-streamed on the Women's March website, so even if you're not in Nevada, you don't have to miss out.
Meanwhile, for those who want to participate but can't make it to Las Vegas, more than 250 anniversary marches are planned in cities all over the country on Saturday, Jan. 20, the day before the official event. Those are organized by official Women's March representatives, who are now in all 50 states. The Women's March website has a searchable directory so you can find the anniversary march closest to you.
And this year, the march is more than a one-day event. Organizers are treating the Las Vegas event as a kickoff before they embark on a tour to 10 different swing states, where they'll hold town halls, candidate training, rallies and voter registration events, all aiming to get more women to the polls this year.
Last year's event was uplifting, inspiring and empowering. Let's make this one even bigger and even better, and make sure people know we will not be silenced ever again.