Now That The Women's March Is Over, Here Are 10 Ways To Keep The Momentum Going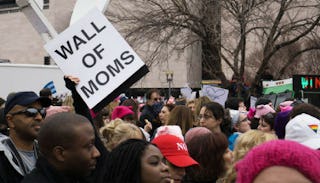 Erin DelConte
I spent the day of the Women's March skiing in the mountains of Northern Idaho at a family reunion. However, I was fully supportive of the causes that brought these women (and men and children) together, and I followed the marches through Facebook as best I could. Even while on that remote mountain, I could sense the palpable energy flowing from the millions who marched. So many photos and stories of solidarity. So many expressions of unity and caring. I was inspired.
The Women's March may very well be the largest organized demonstration in U.S. history. That's uh-mazing — but what comes next? Now that so many people are fired up to make a positive difference, how do we keep the momentum going?
Here are 10 ways we can harness that incredible energy moving forward:
1. Write and/or call your senators and representatives.
The Women's March website www.womensmarch.org has postcards ready to go that you can print and a space to enter your zip code to find the names of your members of Congress. Tell them what issues are important to you. Tell them what you want to see the administration do or stop doing (#NODAPL and keeping our doors open to refugees are good places to start, if you ask me.) They work for us. They are our employees. They don't know what we want unless we tell them.
2. Donate to human rights and women's health organizations.
Give to the American Civil Liberties Union or refugee aid organizations, or Planned Parenthood. (If you have reservations about Planned Parenthood, learn more about it. Politifact has fact-checked many statements and widely held but erroneous beliefs about the organization.) Find an organization you can get behind and offer your financial support.
3. Support a local women's shelter.
Domestic violence disproportionately affects women, and it's being reported that the Trump administration may be cutting off funding for the Violence Against Women Act. Women who have left abusive partners need safe places they can go to escape their abusers, and often need a helping hand to get back on their feet. Find a local women's shelter at www.domesticshelters.org or www.womenshelters.org.
4. Share the message of Black Lives Matter.
There's a lot of misunderstanding about Black Lives Matter, so check out the official website and read what it stands for. (Hint: It's not violence or anti-police.) BLM was founded by three women after the shooting of Trayvon Martin. Saying "Black Lives Matter" doesn't mean that they matter more than others. It means that for literally centuries, black lives been treated as if they don't matter as much as white lives. I'm as white as the driven snow, and I can totally see the truth in that. Being an ally and speaking out for equality in our justice system is not too much to ask.
5. Prepare for the midterm elections.
On November 6, 2018, a third of the Senate, all of the House of Representatives, and many state governors are up for reelection. I know that many of us only turn out for the presidential election, but that needs to be over and done with yesterday. Get to know who is up and coming in your area, and prepare to make your voice heard at the ballot box. It's still two years away, but mark your calendars now and get to know the politicians in your area.
6. Encourage women to run for office.
One of the reasons the U.S. ranks so low on the world stage for gender parity is our abysmally low numbers of women in high political offices. Our Congress is 80% male. As you know, we've still never elected a woman as head of state, unlike Liberia, Bangladesh, Pakistan, and Turkey, just to name a few. We need more women to chip away at that glass ceiling.
7. Help a refugee family feel welcome.
Imagine your whole world literally being blown apart and having to move to another country to find safety. How would you want to be treated? Refugee families need support and kindness to help them assimilate and adjust to our culture.
8. Arm yourself with facts and statistics.
Unfortunately, it appears that a lot of people have thrown facts out the window as of late. But it's hard to argue that you're on the right side of history without them. Research the statistics on abortion and how abortion rates are actually slightly higher in countries where it is illegal. Research how the U.S. ranks 45th out of 144 countries for gender equality. Facts are not dead. We need them. Badly.
9. Talk to your kids about human rights.
The fight for human rights is likely a long-term endeavor. If our kids grow up understanding the forces that have kept marginalized people on the fringes, and how to help support and protect equality and justice for all, they'll provide the energy and momentum that humanity will need in the future.
10. Practice acts of kindness.
Of course, always, always, always, the best daily action we can take is to pour as much goodness into the world as we can. Shine a light. Be the change you want to see. Practice the Golden Rule. Go high. Love first.
If I took one thing away from my friends who marched, it's that when we work in solidarity, women can do incredible things. We will be the ones to change the world. We will be the ones to make it great, for good.