The World Stood For Women Yesterday And The Images Are Breathtaking
by Valerie Williams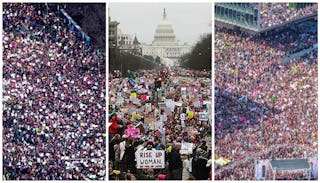 Images via Twitter and Getty Images
The demonstrations spanned over 600 cities all over the world
Unless you went totally offline yesterday or hid in a cave, no doubt, your social media feeds were crammed with images and videos from yesterday's Women's March on Washington as well as sister marches all over the world. The photos capture the spirit of the day but more than that, they capture it's sheer size.
Sorry to break it to our highly sensitive new commander in chief, but it was huge.
According to Mother Jones, early estimates put the total number of protesters worldwide at over 2.5 million people from over 600 cities. The turnout surpassed all expectations, with Washington, D.C. as the most notable example. 200,000 RSVP'd "yes" on the event's Facebook page, but the total participants were closer to half a million people. The crowds in many cities reached numbers so big people couldn't even march, they just milled around the streets holding signs and peacefully making themselves heard.
And it was beautiful.
Washington, D.C.
Chicago
New York City
Los Angeles
Seattle
Boston
London
Paris
Athens
Antarctica
Rome
Simply amazing.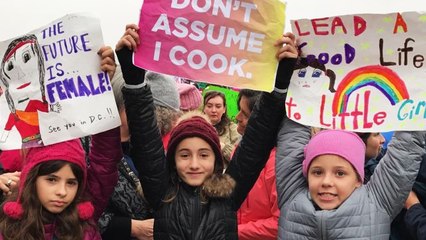 This article was originally published on