Donald Trump Got A Wall After All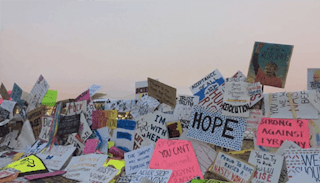 Image via Twitter
Women used their signs from the Women's March to build a wall on the White House fence
After the Women's March on Washington, D.C. on Saturday, some of the women who took part had a genius idea about what to do with all the signs they had made for the protest: They attached them to the White House fence and left them there.
The result? A huge wall of poster board bearing their messages: "Women's rights are human rights," "A woman's place is in the revolution," "Pussy grabs back" and so, so many more.
It was an "incredible sight to see," according to one woman.
The signs wrapped around a large portion of the White House fence. The wall of messages to the new president on his first full day in office is made even more hilarious by Trump's constant campaign promise to build a wall along the U.S.-Mexico border to keep undocumented immigrants out for good — and then stick Mexico with the multi-billion dollar bill for the wall's construction. Even though that's an objectively ridiculous idea — and a promise there's virtually no way Trump can keep — "Build the wall" became a gross rallying cry at his campaign events.
An estimated 500,000 people marched in D.C. alone, protesting Donald Trump's presidency and calling for equal rights for women. They were joined by millions in solidarity marches in cities around the world.
Women came through and built him a wall, though clearly not the one he wanted.
This article was originally published on