These Photos Of The Women's March On Washington Are Beyond Inspiring
by Valerie Williams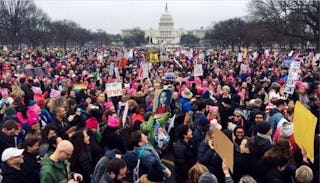 Image via Twitter
Almost 500,000 people marched on Washington today
The scene at today's Women's March on Washington, as well as at sister marches all over the world, is pretty lit to say the least. Social media is being deluged with photos of protesters holding signs bearing brilliant and empowering messages to the incoming administration. There are mothers, daughters, sisters, friends, and yes, fathers, sons, husbands and grandfathers too.
Because women's rights are human rights, and until we're all equal, no one is.
According to the Washington Post, close to half a million protesters descended on Washington, D.C. alone, with hundreds of thousands more participating in demonstrations all over the world. They also report that marches in Chicago, Boston, New York and Los Angeles are drawing crowds so large they can't actually march. People are just spilling into the streets, chanting and carrying signs.
Check out the scene in D.C. and around the country today as protesters let the Trump team know that they're not taking any shit.
Their signs leave nothing unsaid.
And are giving us all hope for the next generation of "nasty" women (and men)!
The vibe at the DC Metro this morning was enough to give you chills.
Seriously. These women aren't staying quiet, and it's incredible to witness.
Women of all ages and from all walks of life.
Defending the right for every woman and girl to have control over her own body.
The crowd is simply breathtaking.
Their message? Totally inspiring.
Because, fuck this shit.
Millions of us refuse to go quietly into the night.
Even if that's all we really want to do.
Because women are amazing. And after today, no one will be able to forget it.
This article was originally published on